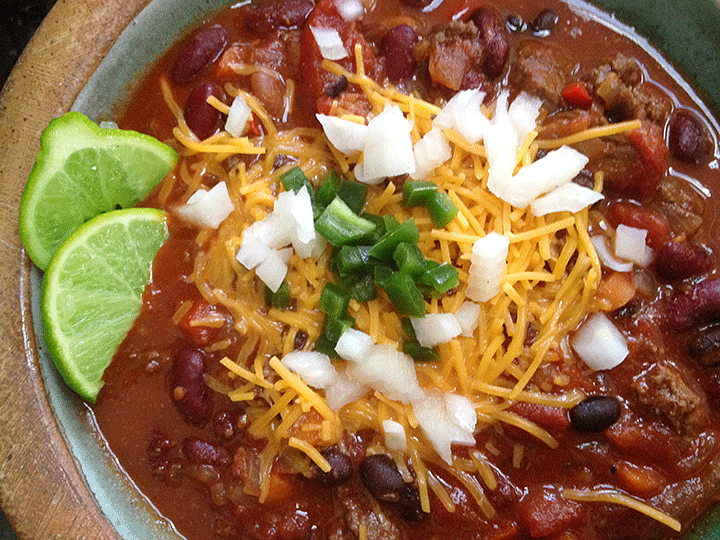 The hard part for me when cooking is actually writing down the recipe.  Some things like stews, soups, and chili sort of morph as I cook and may change a bit each time… hopefully always improving.  I think I have this recipe down but as I always taste and retaste the amounts of chili powder and ground cumin could change.  Start with what I have written down and I encourage you to add your own twist to this classic comfort food.
INGREDIENTS:
• 1-1/2 lb ground skirt steaks
• 1lb sirloin steak cubed (try to cut out fat)
• 1 large can crushed San Marzano tomatoes
• 1 large can peeled San Marzano tomatoes
• 2 large carrots, diced
• 1 small red pepper, diced
• 2 medium onions, diced
• 2 tablespoons of olive oil
• 4 cloves of garlic
• 1 can pinto beans
• 1 can cannellini beans
• 1 can black beans
• 2 cans of red kidney beans
• 3 tablespoons of chili powder
• 2 tablespoons of ground cumin
• Salt & Pepper
• 1 teaspoon red chili flakes (optional)
DIRECTIONS:
• Heat the oil in a large heavy deep pan; add onions and chili flakes (optional). 10 minutes approx.
• Next add garlic, red pepper, and carrots.
• Now brown the meat and drain any extra fat and return to pan.
• Add tomatoes, beans, chili powder, cumin, and salt & pepper to taste.
• Cook on low for an additional 20-25 minutes.  Serve with a variety of toppings, onions, cheese, cilantro, avocados, jalapenos… sour cream… oyster crackers.
• I serve this chili with corn cakes… always good!  Enjoy!