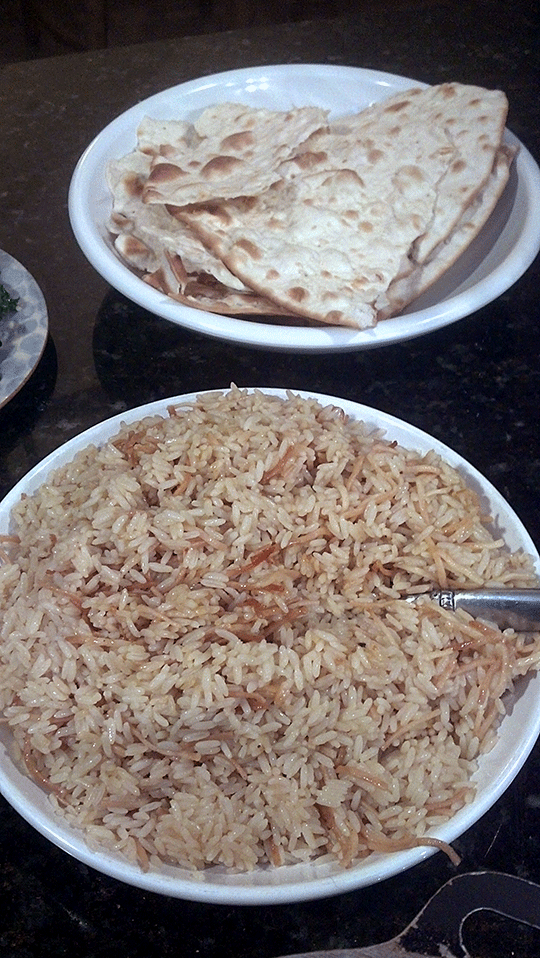 Most American dinner tables accompany a meal with a starch… usually potatoes of some kind.  The staple side dish in our home was pilaf.  We had pilaf with our "lamb burgers" not fries!  It is quick, easy and delicious.  I always have these ingredients in my pantry for a side dish.  The bread is an Armenian flat bread.  My grandmother would make this, stacking flat rounds of bread a foot high each in the pantry.  I purchase the bread from "Valley Bakery" in Fresno, CA.  They call the bread Valley Lahvosh, original Armenian Sesame Seed Cracker Bread.  This is the closest bread I have found to my Grandmother's.  You wet the bread with a spray of water and then wrap it in a clean dish towel.  As kids we had our sandwiches on this softened bread.  I was always slightly embarrassed by my Persian cucumbers and nontraditional sandwich bread, but it was so good.  It also comes in a whole wheat version.  You can order a case and it lasts a while… but in my house it doesn't last too long!
RECIPE: Armenian Pilaf
INGREDIENTS:
• 1 cup of egg noodles
• 6 tablespoons of butter
• Dash of kosher salt
• 2 cups of Uncle Bens white rice.
• 4 cups of chicken broth
DIRECTIONS:
• In a medium sauce pan Sauté egg noodles in butter till brown.
• Then add the chicken broth and rice… bring to a boil then turn to low heat and cook until     rice is fluffy approx. 25 minutes.  Keep a close watch.  When you lower the heat keep         pan covered.