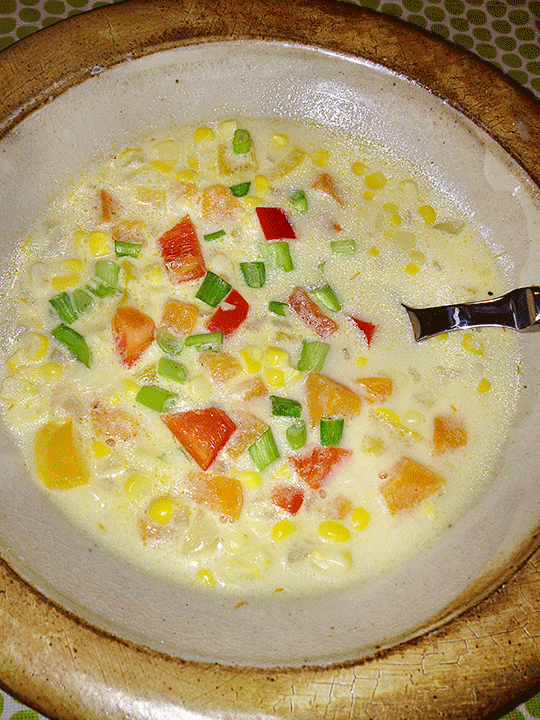 I am not a fan of sweet potatoes so I shy away from recipes with this vegetable… but this soup is beyond delicious.  It is a recipe from "Stonewall Kitchens" and I find all their recipes are proven winners.  I made it with fresh corn and peppers from the farmer's market.  The aroma and flavor of the saffron cream finishes this soup to perfection.  It is a must try for the cold nights ahead, let me know if you enjoy it.  It can be served as a first course, for lunch, and don't forget to include a crusty bread, homemade cheddar biscuit or oyster crackers.
INGREDIENTS:
• 2 tablespoons olive oil
• 1 large onion, chopped
• 1 large red bell pepper, cut into ½-inch squares
• 1 small yellow bell pepper, cut into ½-inch squares
• 1 large sweet potato, peeled and cut into ½-inch squares (about 2 cups)
• Salt and freshly ground black pepper
• 1 tablespoon flour
• 4 cups low-sodium canned chicken or vegetable broth
• 6 large ears fresh corn, or 3 cups frozen corn kernels, thawed
• 1 cup heavy cream
• About 1 teaspoon crumbled saffron
• 3 scallions (white and green parts), finely chopped
DIRECTIONS:
• In a large pot, heat the oil over low heat.  Add the onion and cook, stirring occasionally, for 10 minutes.
• Add half of the red pepper and all of the yellow pepper and cook, stirring, for 2 minutes.
• Add the sweet potato, season with salt and pepper, and cook for 8 minutes, stirring occasionally.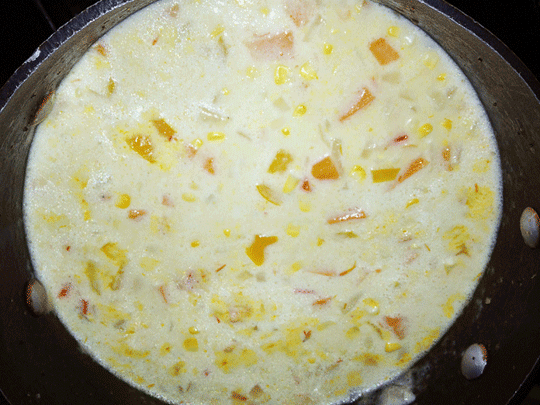 • Stir in the flour and cook for 2 minutes.  Raise the heat to high, stir in the broth, and bring to a boil.
• Reduce the heat to low, cover, and cook for about 12 minutes until the potatoes are just tender.
• Meanwhile, if using fresh corn, shuck it and remove the silks. Using a sharp knife remove the kernels from the cob by standing each cob on one end of the cutting board and working the knife straight down the cob; you should have about 3 cups of kernels.  Mix in the kernels; set aside.
• In a small saucepan, heat the cream and saffron over low heat for about 5 minutes, until just simmering.
• Add the saffron cream to the chowder and stir in the corn.  Heat over low heat for 5 minutes.
• Taste for seasoning.  Serve piping hot, topped with the scallions, and the remaining red pepper.
 PANTRY STAPLES: Trader Joe's Soup & Oyster Crackers (Click to Read)