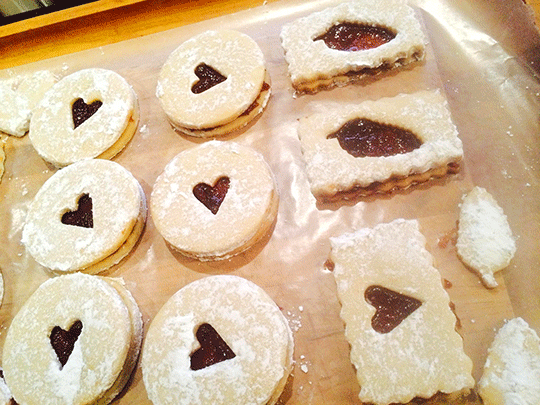 We call these "Window Cookies" and they are my younger son's favorite cookie.  I make them at Christmas and Valentine's day.  The center shape will change with the holiday but the cookie stays the same… so you can be creative.  This dough can be made with powdered sugar instead of regular and then altered some, but I think the crispness of the sugar cookie recipe makes this cookie taste the best and holds the jam better.  Have fun with this recipe as you can use all different flavors and colors of jam and you can cut out all different shapes.
INGREDIENTS:
• 2 sticks salted butter
• 1 cup sugar
• 1 egg
• 2 teaspoons vanilla
• 1 tablespoon buttermilk or cream
• 3 cups of flour
• ¾ tsp of baking powder
• dash of salt
• One jar seedless jam, raspberry, strawberry, pear, peach, or whatever flavor you prefer.
• 1½ cups powdered sugar, placed in a powdered sugar container.
DIRECTIONS:
• Beat butter, sugar, egg, vanilla, and buttermilk together until smooth.
• Slowly add flour, baking powder, and salt to the wet mixture.
• Make two slabs of dough, slightly flatten and wrap with parchment then with saran wrap.
• Put in fridge for 2 hours or overnight.
• Roll out dough and use with either circle or square cookie cutters.
• For each cookie you will have a bottom that is not cut out and a top that you cut a shape out of.
• Place cookies on cookie sheet in a 350 degree preheated oven, until they are slightly browned on the edges. (10min approx).
• Let cookies cool.
• Once cool, powder the bottom side of the bottom cookie and spread jam on the top.
• Powder the top of the cookie (the one with the cut out) and place on top of the jam.
• Repeat until you are done with the dough.  I keep the second slab of dough in the fridge until I am done with the first slab.
This recipe makes about 2 dozen cookies.  They are delicious as well as a great looking cookie.  Who doesn't like jam on a crisp butter cookie?  Enjoy!