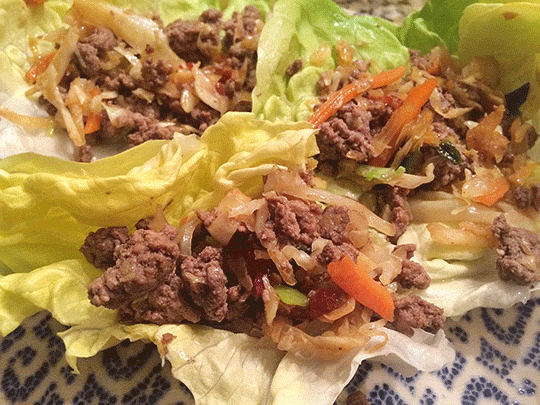 This recipe was given to me by a friend, and it works well if you are on a no carb/sugar diet.  My family loved this so the second time I made it I increased the recipe so I had plenty of leftovers!  I have changed the recipe a bit.  If you want to play with the flavors and texture you can always add water chestnuts for crunch and crushed peanuts or cashews.  I change a recipe most every time I make it depending on what I have in my pantry.
INGREDIENTS:
• 1½ lbs of ground beef (you can substitute turkey or chicken)
• 2 Tbsp of sesame oil
• 4 minced garlic cloves
• 6 diced green onions
• 16 oz coleslaw mix or shredded cabbage
• Salt & pepper to taste
• Boston Lettuce or smaller cups of lettuce
SAUCE INGREDIENTS:
• ½ tsp sweetener (Truvia)
• 1 tsp fresh grated ginger
• 1½ tsp white vinegar
• 3 Tbsp Tamari Sauce, a gluten free soy sauce
• ½ to 1 tsp of hot sauce (chili paste or Sriracha)
DIRECTIONS:
• Brown the ground beef in a large skillet, drain any fat, and set aside.
• Salt & pepper to taste.
• While the meat is browning, combine all the sauce ingredients.
• Heat up the sesame oil and add the garlic green onions and cabbage until cooked.
• Add the sauce and the ground beef mix well and serve hot with your lettuce cups.
This recipe is so easy and takes only a few minutes to put together so we have been making it quite a bit lately.
Enjoy!