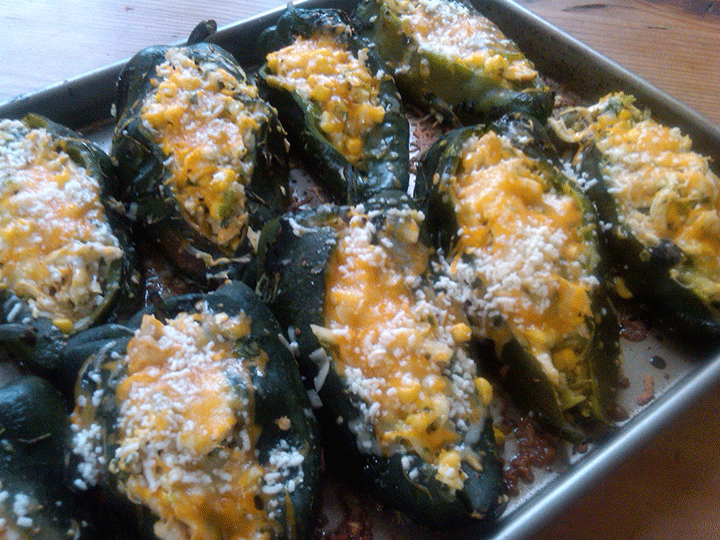 I have to give the credit for this recipe to a great cookbook "The Family Chef" by Jewels & Jill Elmore. I am not known to follow any recipe to the tee. I changed up the tomatillo sauce because I like it blended raw not cooked. You can season your meat with additional spices. The credit goes to the Elmore sisters. My family is a big fan of these peppers. Give it a try & let me know!
My recipe is a bit different but my inspiration is from their recipe.
Serves 4-6
INGREDIENTS:
• 6 Chicken Breast halves, boneless skin on
• Kosher Salt & Pepper
• Dash of Olive Oil
• 8 Poblano Peppers
• ½ cup of chopped cilantro
• 1 sweet onion finely chopped
• 3 ears of corn, kernels removed
• 1 cup of Tomatillo Sauce (recipe follows)
• 3 ½ cups of shredded cheese mixed Cheddar, jack, & cotija
DIRECTIONS:
• Preheat oven to 400 degrees.
• Season Chicken with salt & pepper… Roast on a sheet pan with olive oil for 40 min             or until done.
• Roast and Peel the poblanos.
• Then cut a slit down the middle of each pepper and remove the seeds.
• Take the cooled chicken and shred removing the skin.
• Add the onion, cilantro, corn kernels, and tomatillo sauce then add 2cups of shredded         cheese. Use a wooden spoon to mix, add salt & pepper to taste.
• Stuff the roasted peppers with the chicken mix & top with the remaining cheese.
• Put the peppers on a sheet pan & bake for approx 25 minutes.
• If you make these the day ahead then wrap tightly with plastic wrap & take out of fridge to   come to room temperature before heating.
TOMATILLO SAUCE
INGREDIENTS:
• 8 medium tomatillos husked & cleaned cut into quarters.
• ½ medium sweet onion finely diced
• 1 tablespoon of olive oil
• 1 large garlic clove minced
• ½ cup cilantro
• ½ avocado
• Juice of 1 lime
• Salt & pepper to taste
DIRECTIONS:
• Blend in a food processer and this sauce can be used for everything! Over steak…               to dip… with tacos just be creative.