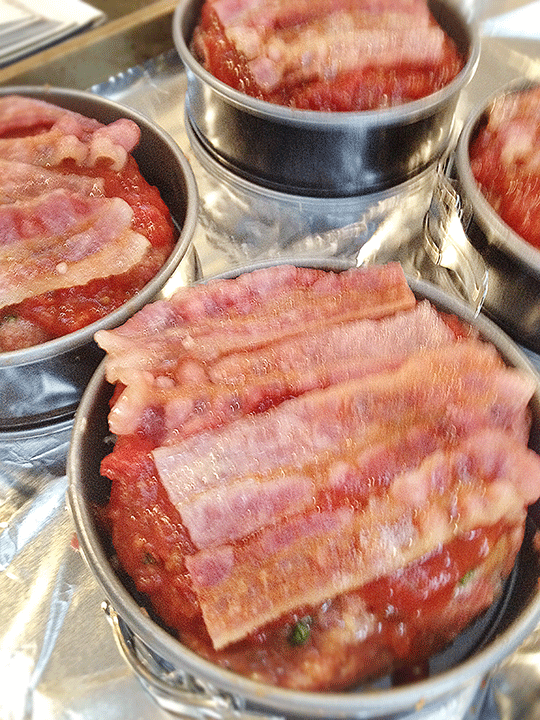 Meatloaf is a memory food for me.  It was served once a week almost when I was growing up, because you can make it ahead of time, beef was not expensive and we had most of the ingredients around the house.  This recipe from "Stonewall Kitchen Favorites" makes it special, mixing the veal, pork & beef and complementing with fresh herbs makes a difference.  I sometimes do not use a whole can of crushed tomatoes but mix some Bennetts chili sauce with a cup of tomatoes and a dash of Worcestershire sauce.  I also make individual small meatloaves to make this dish even more special.  Enjoy and play with your own flavor combinations.
Serves 6 to 8
INGREDIENTS:
• 1 tablespoon olive oil
• 1 small onion, chopped
• 2 garlic cloves, minced
• 1 pound ground beef chuck*
• 12 ounces ground pork*
• 12 ounces ground veal*
• 2 large eggs
• 1 cup plain bread crumbs
• 1 tablespoon tomato paste
• ¼ cup chopped fresh parsley leaves
• 2 tablespoons chopped fresh thyme leaves
• 1 tablespoon chopped fresh rosemary leaves
• 2 teaspoons salt
• Freshly ground black pepper
• One 16-ounce can crushed tomatoes
• 4 ounces thick-sliced bacon (about 4 slices)
DIRECTIONS:
• Place a rack in the middle of the oven and preheat oven to 375˚F.
• Heat the olive oil in a medium skillet over medium-low heat.  When hot, add the onion and garlic and cook, stirring occasionally, until the onion is soft, about 10 minutes.
• In a large bowl, combine the onion mixture, beef, pork, veal, eggs, bread crumbs, tomato paste, parsley, thyme, rosemary, salt, and a generous grinding of pepper, mixing well with your hands or a wooden spoon.
• Turn the meat out onto a rimmed baking sheet, a roasting pan with high edges, or a large 11 X 15-inch or a 9 X 13-inch glass dish and form the meat mixture into a loaf approximately 5 X 8 inches and 3 to 4 inches tall.
• Mix the tomatoes with 1 ½ cups water in a small bowl and pour the sauce over the top of the meat loaf, allowing some of it to fall into the pan.  Drape the bacon strips over the meat loaf widthwise.
• Bake for 30 minutes, basting with the pan juices several times.
• Increase the oven temperature to 400˚F, and bake an additional 30 to 40 minutes, basting every 10 minutes or so, for a total cooking time of 60 to 70 minutes.  The bacon should be cooked through and a thermometer inserted into the center of the meat loaf should measure 165˚F.
• Remove from the oven and let the meat loaf rest for 10 minutes, then cut into slices and serve with the bacon and the tomato juices from the bottom of the pan.
*NOTE:  If you can't find all three meats (often found premixed with the label "meat loaf mix" in supermarkets), try a mixture of whatever ground red meats you can find, totaling 2 ½ pounds.  For the best flavor, make sure the meat has at least 10 percent fat.  Each meat generally lists the amount of fat on the label.