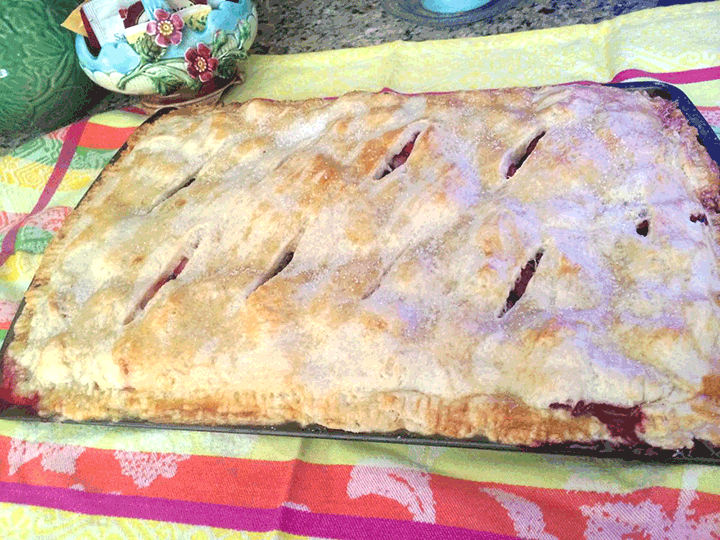 I made this pie for my Labor Day party and it was a hit!  This time of the year the berries at the market are in abundance and I love this recipe because it serves a crowd.  I picked up fresh eggs and butter for the dough, and I always use King Arthur's Flour. I pulled this recipe from a wonderful cookbook "Bountiful" by Todd Porter and Diane Cu. With the sweetness of the berries I cut the sugar down to ½ cup, and I use salted butter and don't add the kosher salt.  Also I mixed the chocolate chips into the fruit so it was not a layer of chocolate on the crust but rather immersed in the fruit! It's easy and delicious and makes a statement due to its size! I also like an egg wash on the dough. Enjoy!
FILLING INGREDIENTS:
• 3 lbs mixed fresh berries, larger berries halved and quartered
• ½ cup sugar
• 3 Tablespoons cornstarch
• 1 ½ cups chocolate chips
DOUGH INGREDIENTS:
• 8 cups flour
• 1 cup sugar
• 2 teaspoons sea salt or kosher salt
• 1 lb cold unsalted butter, cut into ½" pieces
• 3 eggs
• ½ cup cold water
• Heavy cream, for brushing the crust or egg wash
• Turbinado sugar, for dusting
Directions:
• Preheat oven to 400° F. Butter one 13-by-18-inch sheet pan.
• Start the filling: Put the berries in a large bowl. In a small bowl, whisk together pie filling sugar and cornstarch until well combined. Add sugar mixture to the berries and gently toss to coat berries. Add chocolate chips. Set aside.
• Make the crust: In a large bowl, whisk together dough flour, sugar, and salt. Pinching with your fingers or using a pastry blender, incorporated butter into mixture until no large pieces of butter remain and mixture has a crumbly texture.
• In a separate bowl, whisk the eggs with the cold water. Make a well in the middle of the flour mixture, then pour the egg mixture into the well. Working from the center out, combine egg and flour mixes together until the dough holds together. If necessary, adjust with a little additional flour or cold water if dough is too sticky or not holding together.
• Divide dough into two portions, one twice the size of the other.
• On a large floured surface, roll out the larger portion of dough to an 18-by-22-inch  rectangle (I'll roll out slightly larger then trim edges straight to the dimensions), dusting the underside and top of dough with flour a few times while rolling out to keep dough from sticking.
• Gently wrap the dough around the rolling pin, then unroll it over the first sheet pan. Adjust dough so it sits evenly in the sheet pan.
• Roll out the smaller dough portion to a rectangle just larger than 13 by 18 inches. Flip the second sheet pan upside down and gently press it into dough, then lift the pan off. Use impression to cut dough to size.
• Place in oven and bake 30-40 minutes or until top is golden. Remove from oven and allow to cool. Dust with Turbinado sugar, slice and serve.