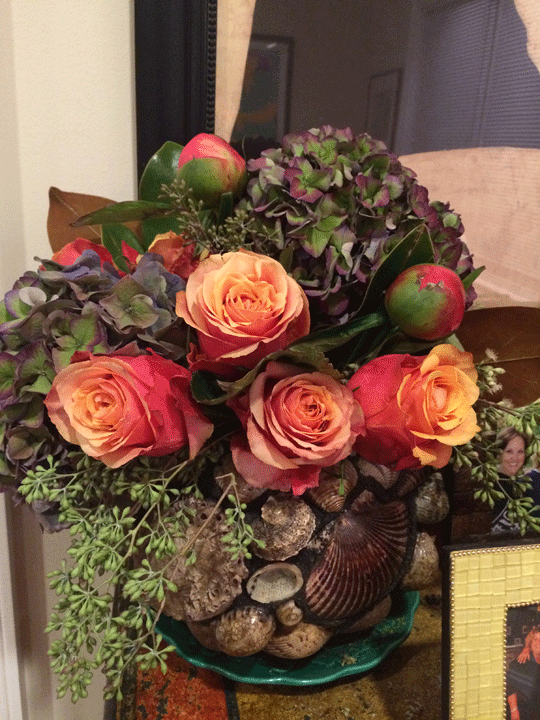 One of my favorite times is Thanksgiving… an easy menu, family, and how I love to set the tables and enjoy the fall flowers.  I am in the thick of planting winter containers and picking up outdoor greens, birch branches, magnolia leaves, and various fun additions to use… but I can never pass all those gorgeous indoor flowers!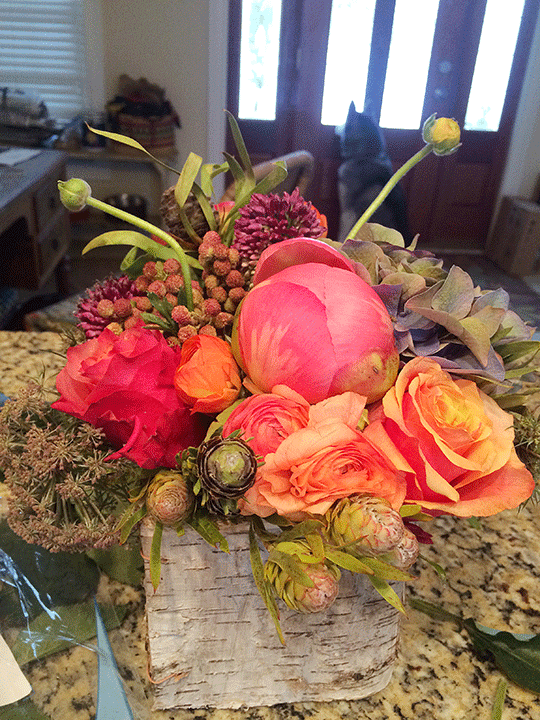 Yes, I am in a bit of heaven surrounded by gorgeous colors and a wide variety of blooms in the cold flower case, so I had to purchase a few beautiful stems to play with.
I picked gorgeous Hydrangea, Cherry Brandy Roses, an amazing hot pink Peony (my favorite!), a soft purple Queen Anne's lace, pink and orange Ranunculus, Allium spray (that is called pink but is more purple in color), and a variety of Berzelia, which I also like to use outdoors.
I opted to use three birch bark covered containers that I also purchased at LD Trading Co, in Northbrook, IL.  I have two tables to dress so I put a rectangular container on the smaller table and the two squares on the larger table of 12 with various votives and candles.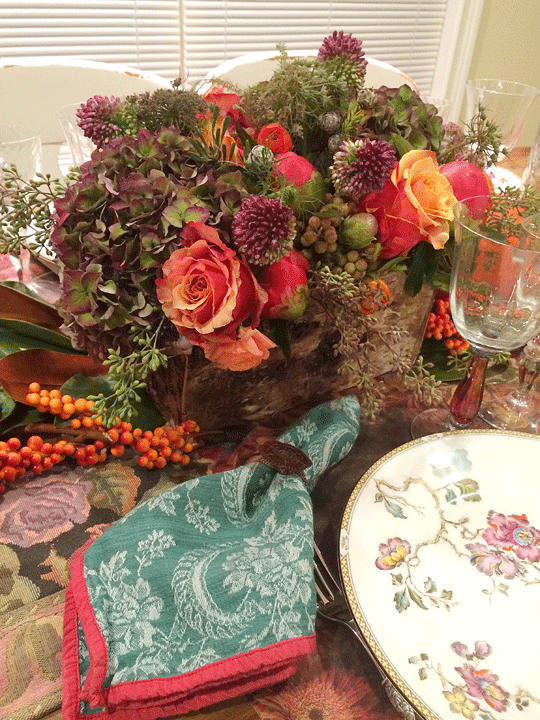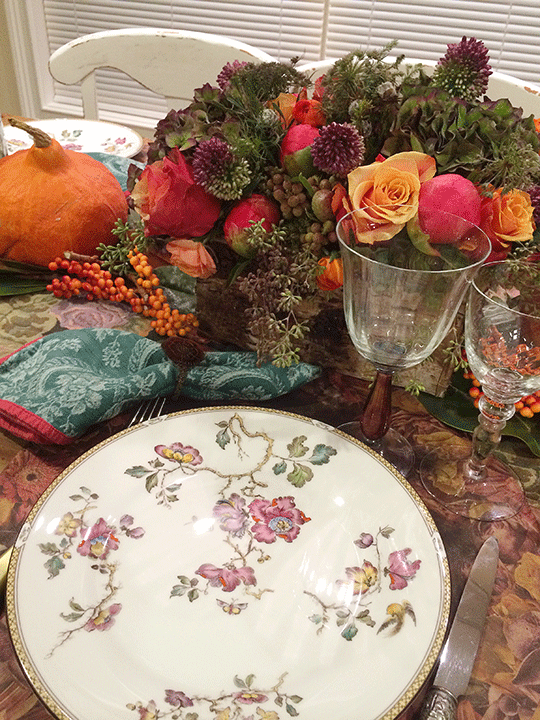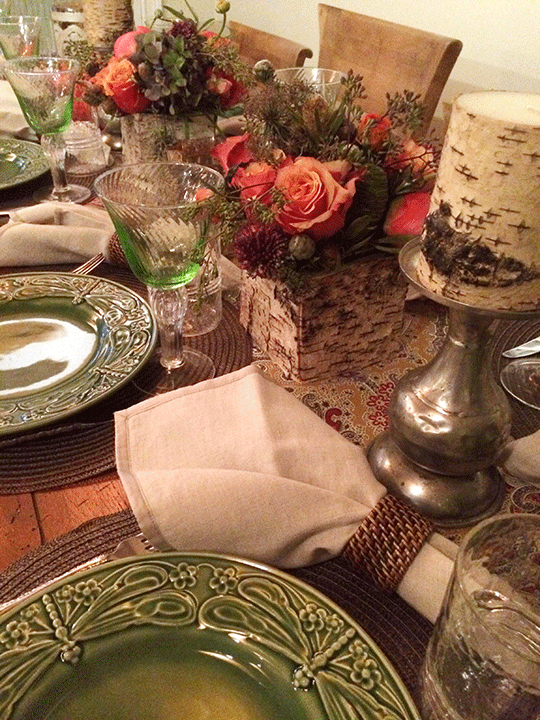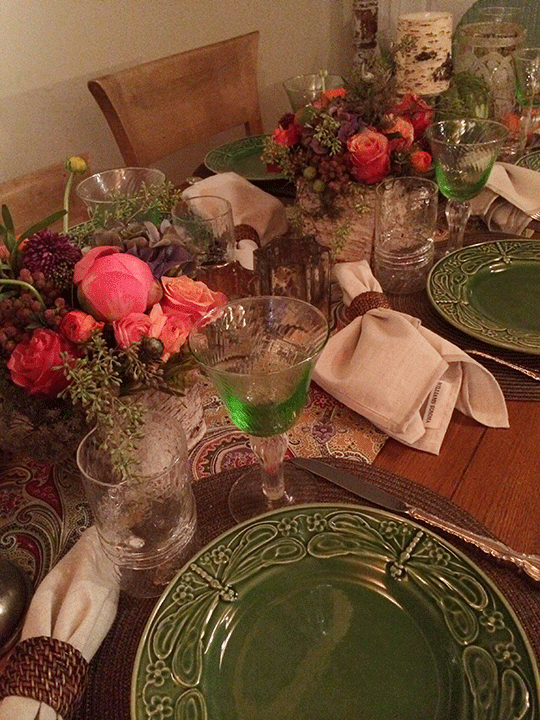 I always like to bring out all my good and also playful dishes, as a crowd of 20 requires me to use most all dishware.  I prefer to use placemats and runners rather than table cloths because I like the look.  I found these fun paper place mats at Gethsemene Garden Center in Andersonville called "kitchen papers".  This design is "Archival Floral".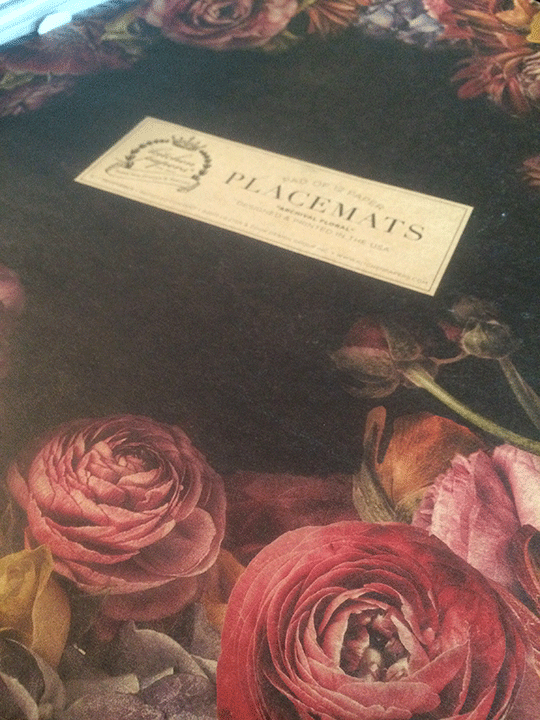 You can have as much fun with the flowers at the grocery store, just make sure to mix them up and choose a color palette that works for your fall thanksgiving table.  You can use ball jars, old various sized vases, pitchers for your containers, get creative and enjoy the process!
Happy Thanksgiving!!