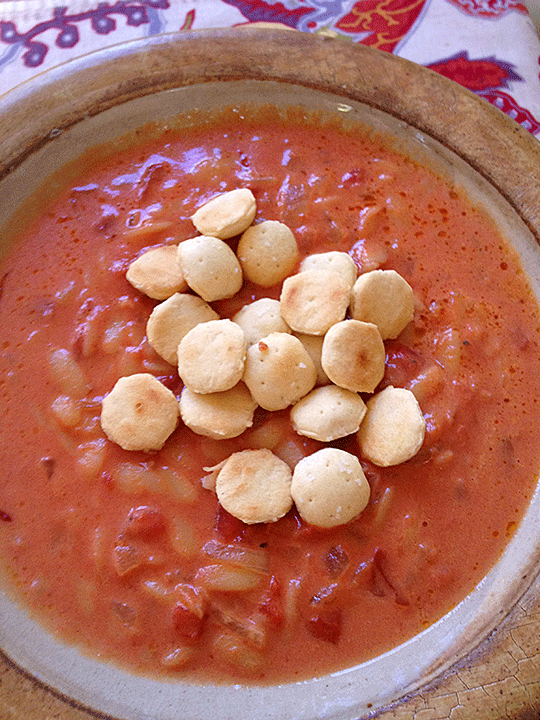 When I think of tomato soup it brings back memories of a can of Campbell's with a processed grilled cheese sandwich, a comfort food from my past.  I didn't know soup could get better than Campbells!  I'm telling you this soup is a must try.  It is smooth, comforting, and delicious; a creamy tomato base with a hint of saffron and a bit of body added by the orzo.  Make an adult grilled cheese with Gruyere or an aged cheddar and a thick crusty bread to accompany it.  My family and clients keep asking me to make this soup.  Some grilled cheese croutons thrown in also make it special.
INGREDIENTS:
• 3 tablespoons of "good" olive oil
• 3 cups of yellow onions, chopped (approx. 2 large onions)
• 1 tablespoon of minced garlic (approx. 3 cloves)
• 4 cups of chicken stock, preferably homemade
• 1 28 oz can of crushed tomatoes (Use San Marzano, it makes a difference!)
• 1 large pinch of saffron threads
• Kosher salt & Pepper to taste
• ½ cup of Orzo
• ½ cup of heavy cream
DIRECTIONS:
• Heat oil in a large pan or Dutch oven over medium heat add onions and sauté for 15 minutes over med low heat till golden brown.
• Add the garlic and cook for another minute.
• Now stir in the chicken stock, tomatoes, saffron, 1 tablespoon of salt, and 1 teaspoon of pepper.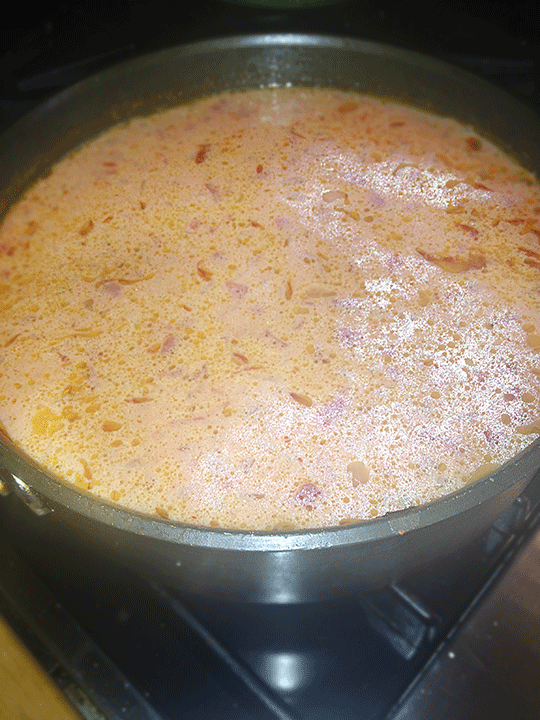 • Bring soup to a boil then lower the heat and simmer for 15 minutes.
• While waiting, boil the Orzo in a medium saucepan, use salt in your water.  Once water is boiling add orzo and cook for 7 minutes, the Orzo will finish cooking in the soup.  Drain and add to the soup.
• Now add the cream 7 let soup simmer for about 10 more minutes, continue to stir.
• Serve with grilled cheese croutons…use Gruyere cheese or cheddar!
Enjoy!  This is a recipe by Ina Garten… weekend cooking!