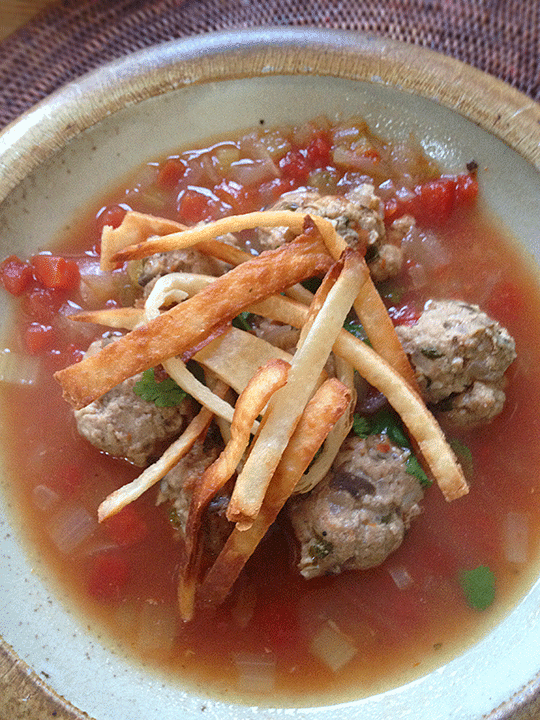 This is a great meal in itself.  I serve it with chopped cilantro, homemade tortilla strips, and a good Mexican beer.  The recipe is from "The Family Chef" by Jewels & Jill Elmore.
Serves 6-8
MEATBALL MIXTURE INGREDIENTS:
• A few glugs of olive oil
• ½ large sweet onion, finely diced
• 1 large shallot, finely diced
• 2 handfuls shitake or crimini mushrooms, finely diced
• ½ handful fresh thyme leaves
• Salt & pepper to taste
• 1 clove garlic, finely diced
• ½ bunch parsley (flat-leaf or regular), finely chopped
• 2 pounds ground dark meat turkey (I also like to use 1 ½ pounds ground dark meat turkey and ½ pound ground pork)
SOUP INGREDIENTS
• ½ large sweet onion, diced
• 2 stalks celery, diced
• 1 large tomato, diced, or a small can of crushed tomatoes
• 8 cups chicken stock or broth
• 2 pinches Mexican oregano and/or dried cilantro
• Salt to taste
DIRECTIONS:
• Prepare the meatball mixture: In a hot skillet add the oil and then sauté the onions, shallot, mushrooms, thyme, salt, and pepper until mushrooms are cooked through and liquid is absorbed.
• Add the garlic and parsley.  Remove from heat and let cool.
• Add all the sautéed ingredients to the meat, season again generously with salt and pepper and mix together lightly by hand.  Be careful not to over mix, which can toughen the meat.
• If you have time, let the meat rest for a few minutes before forming into 1" meatballs.
• In a large-bottomed pot, brown the meatballs in olive oil, turning frequently.  Set aside.
• Prepare the soup: In the pan you used to brown the meatballs, add a touch more oil and sauté the chopped onion and celery until soft and translucent, scraping the bits from the pan to incorporate the flavors.
• Add the fresh tomatoes and the chicken stock, oregano, and cilantro to pot.  Bring to a boil.
• Turn down the heat to medium and simmer for at least 15 minutes or so.
• Add the meatballs to the pot.  Simmer until meatballs are cooked through (about 10 more minutes).
• Add salt to taste.
This soup gets even better the next day!