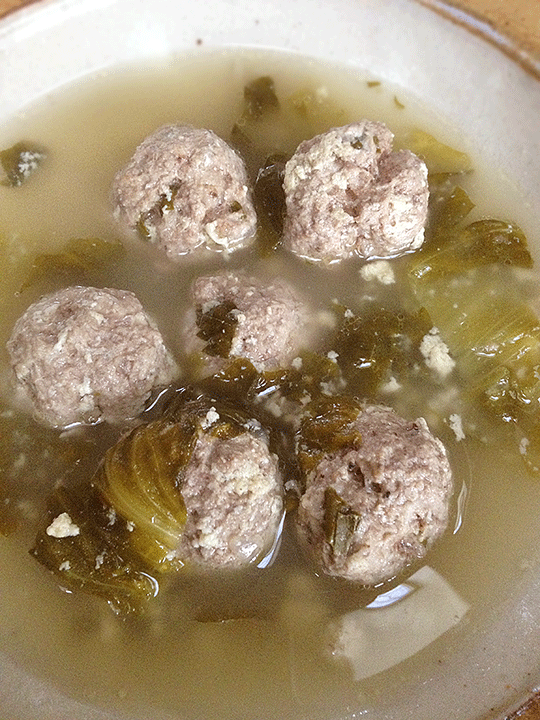 This recipe is a meal in itself, but it can also be an excellent starter for a special dinner.  There are so many versions of this recipe but I really like Giada's in her "Giada's Family Dinners" cookbook.  When you serve this keep a copy of the recipes… you will be asked.  Using homemade chicken broth really makes a difference.  This is a great soup to drop off for a sick friend!  Enjoy!
MEATBALL INGREDIENTS:
• 1 small onion, grated
• 1/4 cup chopped fresh flat-leaf parsley
• 1 large egg
• 4 garlic cloves, minced
• 1 teaspoon salt
• 1/4 teaspoon freshly ground black pepper
• 1/2 cup freshly grated parmesan cheese
• 1/4 cup plain dried bread crumbs
• 8 oz lean ground beef (15% fat)
• 8 oz ground pork
SOUP INGREDIENTS:
• 10 cups reduced-sodium chicken broth
• 1 pound escarole, coarsely chopped
• 2 large eggs
• 2/3 cup freshly grated parmesan cheese
• salt and freshly ground black pepper
MEATBALL DIRECTIONS:
• In a large bowl, stir together the onion, parsley, egg, garlic, salt, and pepper.
• Stir in the cheese and bread crumbs.  Using your hands, mix in the ground beef and pork.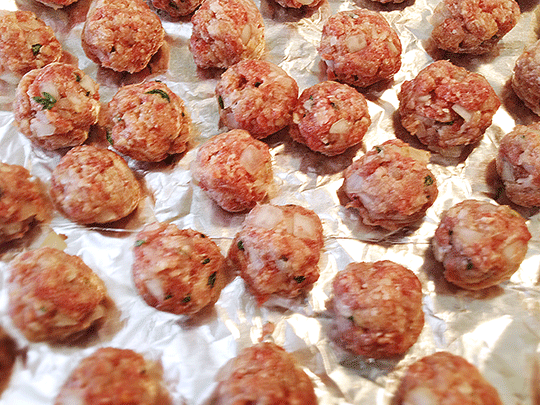 • Shape the mixture into 1-inch meatballs, making approximately 75 balls.  Place on a baking sheet.
SOUP DIRECTIONS:
• Bring the broth to a boil in a large pot over medium-high heat.
• Add the meatballs and escarole and simmer until the meatballs are cooked through and the escarole is tender, about 10 minutes.
• In a medium bowl, whisk together the eggs and cheese.
• Add the egg mixture to the soup slowly, stirring with a fork to form thin strands or egg, about 1 minute.
• Season the soup to taste with salt and pepper.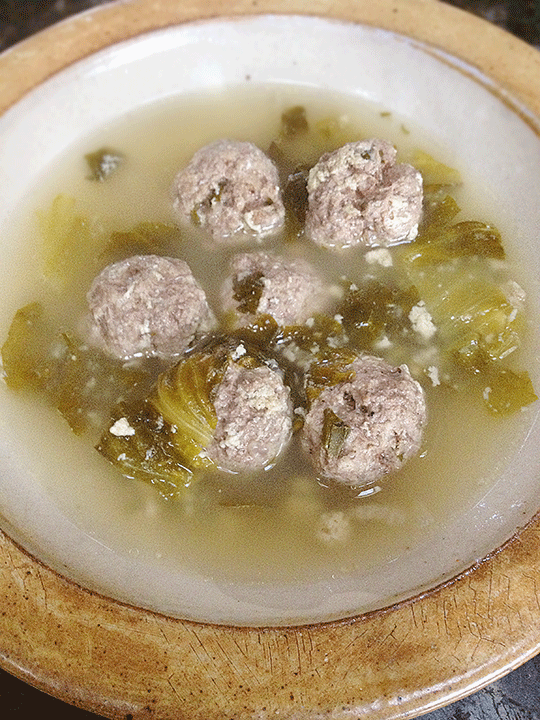 • Ladle the soup into bowls and serve.