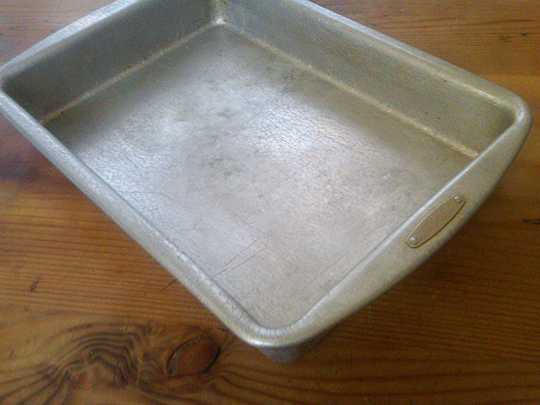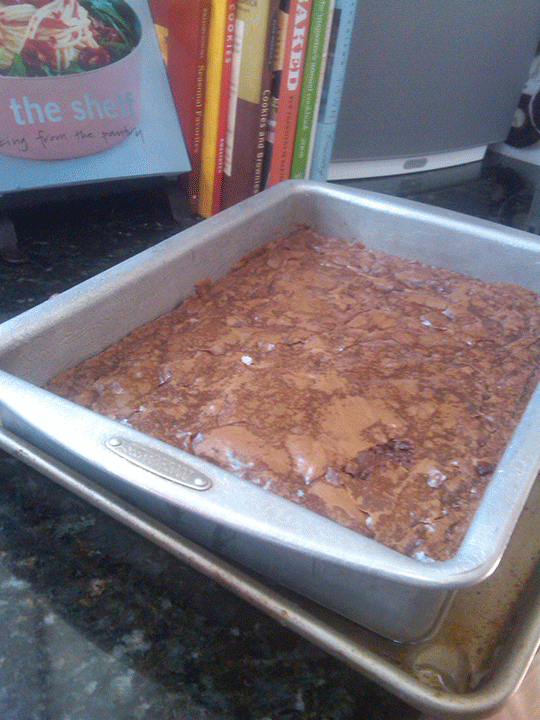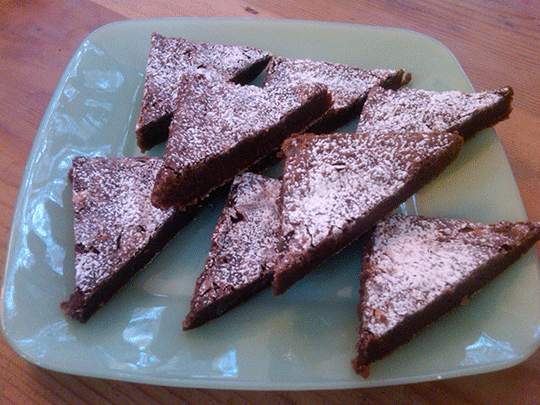 The absolute best brownie recipe I have found is in the cookbook "Alice Medrich's Cookies and Brownies".  Alice Medrich's brownies are a fudgy, chocolate decadent treat that elevates the normal cake-like brownie to a special dessert.  When making these brownies it is important to use a 13 x 9 metal pan.  I found this one in a cook store in Minneapolis; the brand is "Doughmakers".  It turns out a perfect tray of brownies every time.  You can serve these brownies with fresh raspberries and whipped cream or caramel sauce and a dollop of vanilla ice cream.  I usually make a tray and keep them in the freezer so I always have a special sweet treat on hand.
Best Ever "New Classic Brownie" by Alice Medrich
I have doubled Alice's recipe.  Serves 12-24 depending on how you cut them.
INGREDIENTS:
• 2 sticks of unsalted butter
• 8 oz of unsweetened chocolate (use semi-sweet and also ½ milk chocolate, it all works)
• 2½ cups of sugar
• 2 teaspoons of vanilla
• ½ teaspoon of salt
• 4 large eggs
• 1 cup of all-purpose flour
• Optional: 2/3 cups of chopped walnuts or pecans (I have also used cashews)
DIRECTIONS:
• Preheat oven to 400 degrees, position rack in lower third of the oven.
• I butter my metal pan and do not use parchment, but the recipe suggests lining the             bottom with parchment.  So try either way.  My pan works well without the parchment.
• First melt the butter and chocolate in a double boiler stirring with a wooden spoon.  When   it is melted remove from heat and add the sugar, vanilla and salt.
• Next add the eggs one at a time stirring until each is incorporated into the batter.
• Finally add the flour mixing with a wooden spoon until the batter is glossy and smooth and   it comes away from the sides of the pan.
• Stir in the nuts if you are using.
• Scrape the batter into the prepared pan and bake for approximately 20 minutes or until the   brownies begin to pull away from the sides of the pan.  The surface of the brownies will         look dry but if you use a toothpick the center will be gooey.
• While the brownies are baking take a large baking pan and fill with ice cubes and cold         water about ¾ inches deep.  This is your ice bath and a crucial component to making         these brownies!
• When the brownies are ready take them out of the oven and carefully place the pan in the   ice bath (you do not want to splash water on the brownies).
• Cool the brownies in the ice bath for about ½ hr.
• When cool slice the brownies.  I cut them in squares and then cut them on a diagonal.
• Dust with confectionary sugar and serve.