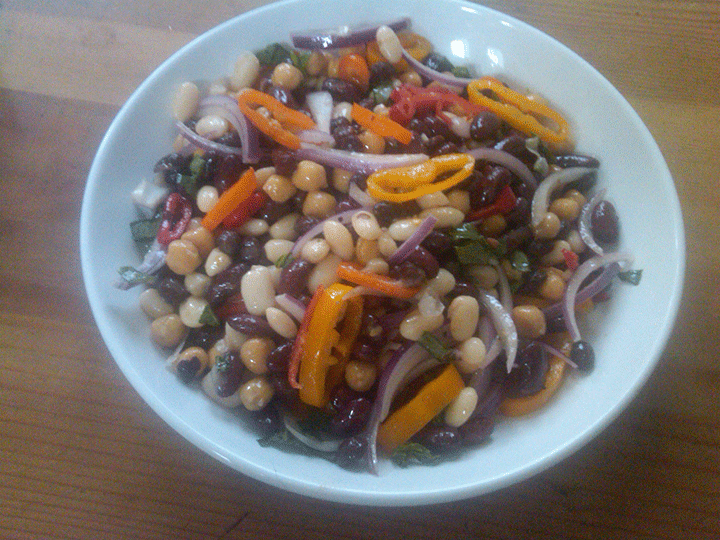 I'm cooking today for a client and this is one of our standard salads to have in the fridge for lunch or a side dish.  I made the salad with more of an Italian flavoring but you can change this up with different beans add corn and avocado with a bit of cilantro and you have a great side for fajitas or chiles rellenos.  I enjoy this recipe because it's easy to make healthy, high in fiber and low in calories.
Serves 6
DRESSING INGREDIENTS:
• 3 tablespoons of red wine vinegar
• ¼ cup of canola oil
• ¼ cup of olive oil
• 2 cloves of minced garlic
• 1 teaspoon of Dijon mustard
• Salt & Pepper
MAIN INGREDIENTS:
• 1-15 oz can of white beans
• 1-15 oz can red kidney beans
• 1-15 oz can garbanzo Beans
• ½ can (7.5oz) black beans
• 2 small red peppers seeded and cut in rings
• 2 small yellow peppers seeded & cut in rings
• ½ red onion sliced
• ¼ cup of fresh basil chopped
DIRECTIONS:
• Whisk or use an emulsion blender to blend all of the dressing ingredients.
• Rinse and strain beans then mix with peppers, onions and basil.
• Mix in dressing.
• Add salt & pepper to taste.