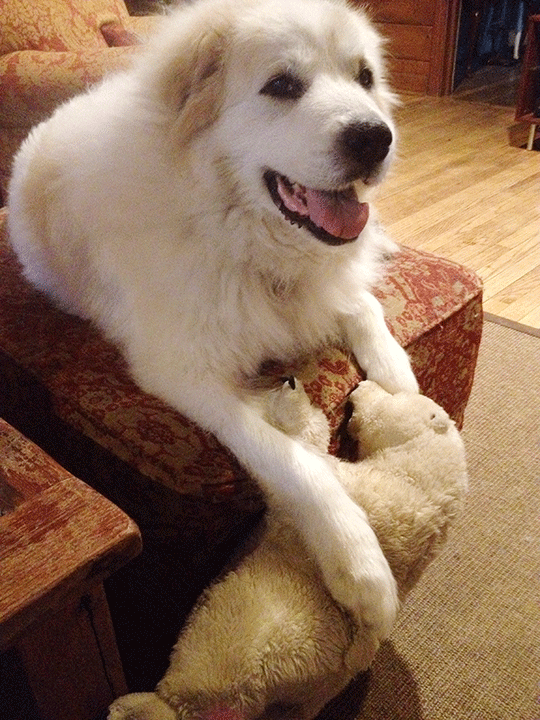 Sometimes we connect with others in a way we never thought possible… and sometimes that connection is with a special pet.  My Kitchen Girl… my best friend, Callie passed away.  It has taken me a few weeks to write about her passing.  She was my constant companion.  If I moved to another room she was right by my side.  In the kitchen she peered at me from under the kitchen table, watching my every move.  If I was baking and mixing then she was right at my feet, waiting for her turn to lick the beaters!  Yes, it was always my treat to her for watching over me.
My sweet girl Callie was unlike any other dog I have had.  She was huge… gentle… soft… calm… sweet… watchful… and loving.  If I was upset or sick she would know.  She would find me and become my lap dog, sitting next to me on the sofa, her head perched in my lap.  Her presence calmed me down and made me feel better always.  When I walked into the house she waited for me and when I left she looked at me as if to say don't worry I'll be watching the house, but come home soon.
As a puppy Callie had two operations on both knees, I spent many nights laying with her on a pile of quilts stroking her soft ears and keeping her calm.  We became the best of friends then and I know she spent the rest of her life giving back to me tenfold.  At night she continued to expect to sleep with us, so my 110 lb Great Pyrenees nestled herself between us most nights.  Many mornings I would wake up with that sweet face
resting on my pillow.  I can't explain how much I miss my girl.
I will have more dogs, but I am not sure I will ever have a friend like Callie.  She was my big polar bear, my little cookie, and my dearest friend.  If you are not a dog person you will not understand my sadness and the many tears I have shed.  She was not just a dog to me… she was my girl, who I am forever grateful to have had in my life.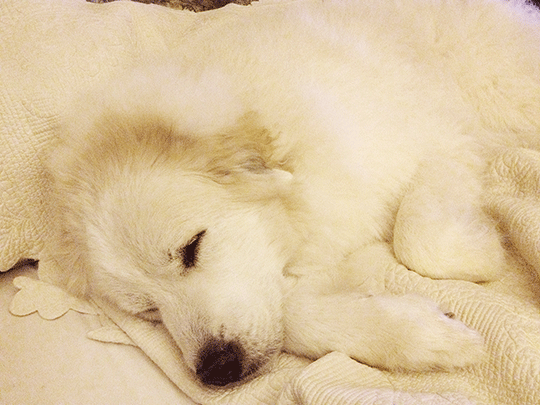 (Callie sleeping)