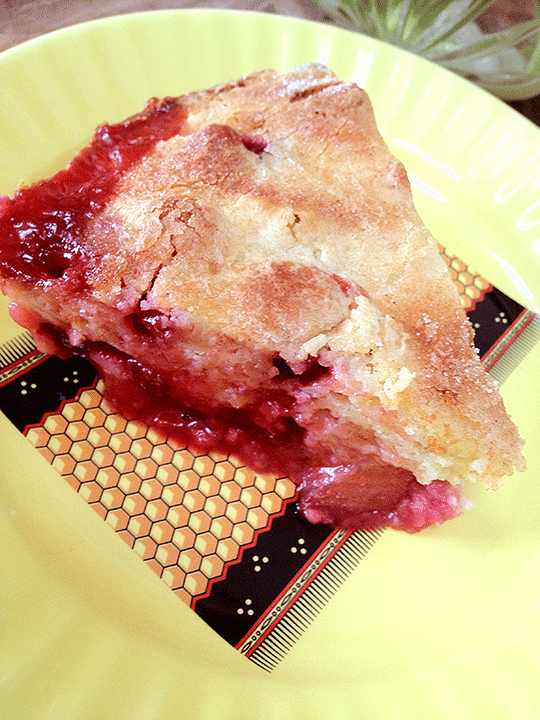 Easy and delicious are the best words to describe this dessert.  We were having another couple over for a very casual pizza & chopped salad dinner and movie.  I had picked up several flavors of gelato but just had that feeling that I needed something else to add to the dessert menu.  (I am a lover of all things sweet!!!)
I had these wonderful fresh cranberries that were frozen and I had wanted to use them… sitting on the counter were a bunch of honey crisp apples.  So I Googled easy dessert recipes using my two fruits… Ina Garten's "Easy Cranberry Apple Cake" appeared on my screen.  I have included Ina's recipe for you to follow, but I did add another 1/2 cup of cranberries and an additional 1/2 of an apple.  I like the fruit and it worked perfectly filling up my deep-dish pie pan.
I popped this cake in the oven only a few minutes before my guests arrived.  The recipe took maybe 20 minutes… so fast, east, and I have to say, delicious!  The cake was so good my guests took two helpings of dessert.  I hope you try this recipe and let me know what you think.  Enjoy!
INGREDIENTS:
• 12 ounces fresh cranberries, rinsed and picked over for stems
• 1 Granny Smith apple, peeled, cored, and diced
• ½ cup light brown sugar, lightly packed
• 1 tablespoon grated orange zest (2 oranges)
• ¼ cup freshly squeezed orange juice
• 1-1/8 teaspoons ground cinnamon, divided
• 2 extra-large eggs, at room temperature
• 1 cup plus 1 tablespoon granulated sugar
• ¼ pound (1 stick) unsalted butter, melted and slightly cooled
• 1 teaspoon pure vanilla extract
• ¼ cup sour cream
• 1 cup all-purpose flour
• ¼ teaspoon kosher salt
DIRECTIONS:
• Preheat the oven to 325 degrees.
• Combine the cranberries, apple, brown sugar, orange zest, orange juice, and 1 teaspoon of the cinnamon in a medium bowl. Set aside.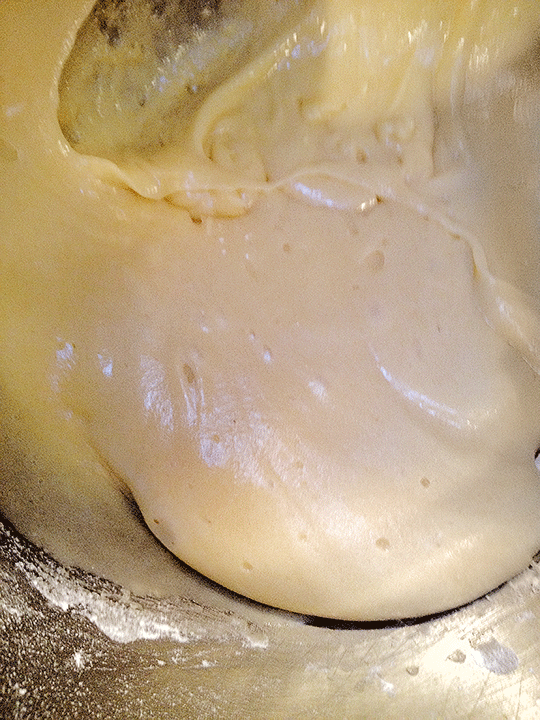 • In the bowl of an electric mixer fitted with the paddle attachment, beat the eggs on medium-high speed for 2 minutes. With the mixer on medium, add 1 cup of the granulated sugar, the butter, vanilla, and sour cream and beat just until combined. On low speed, slowly add the flour and salt.
• Pour the fruit mixture evenly into a 10-inch glass pie plate. Pour the batter over the fruit, covering it completely. Combine the remaining 1 tablespoon of granulated sugar and ¹/8 teaspoon of cinnamon and sprinkle it over the batter. Bake for 55 to 60 minutes, until a toothpick inserted in the middle of the cake comes out clean and the fruit is bubbling around the edges. Serve warm or at room temperature.