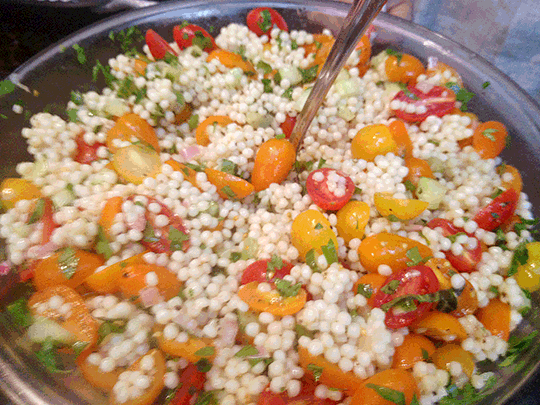 My next favorite recipe was a wonderful and easy side dish.  I'm giving credit to my son Josh for saying you have to try the couscous and chicken recipe in the latest Bon Appetit.  He was raving about the flavors… and he was right.  This is one of my new favorite side dishes… again very easy to make and a perfect time of year to use fresh tomatoes, cucumbers, and herbs from your garden or neighborhood farmers market.
INGREDIENTS:
• 1 ½ cups Israeli couscous
• 1 small shallot, finely chopped
• ½ cup extra virgin olive oil
• 2 tablespoons (or more) fresh lemon juice
• 1 English hothouse cucumber, unpeeled, seeded, and finely chopped
• 3 cups cherry tomatoes (I like to mix up the colors)
• 3 tablespoons of chopped fresh flat-leaf parsley
• 1 tablespoon chopped mint
• Kosher salt & pepper to taste
DIRECTIONS:
• Cook couscous according to package, drain.
• Rinse with cold water and drain well.
• Whisk shallot, oil, and lemon juice in a large bowl.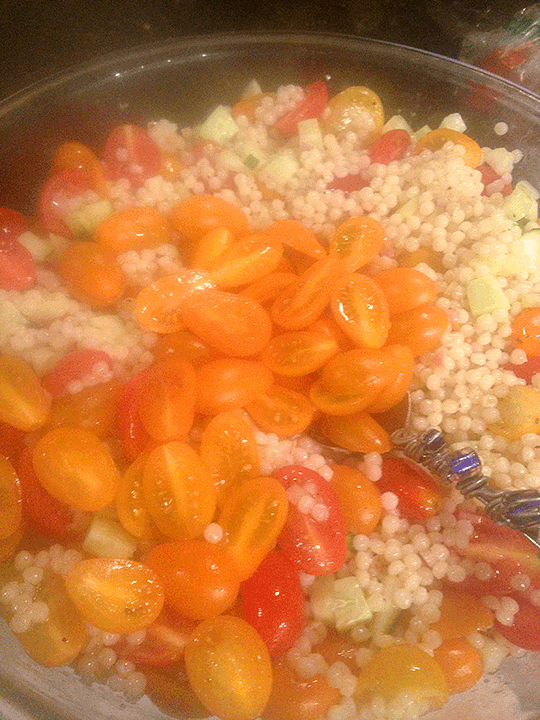 • Add couscous cucumber, tomatoes, parsley, and mint… add more lemon juice to taste with salt & pepper.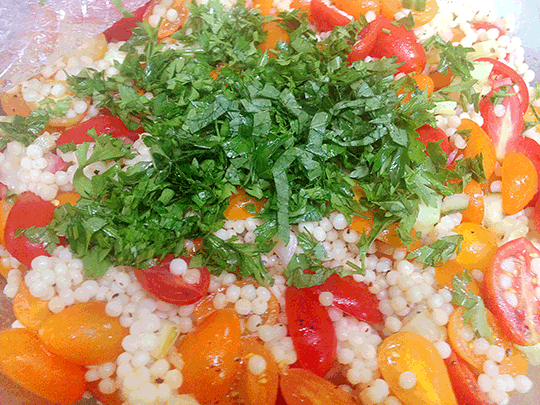 Makes 6 servings.
NOTE: Rinsing the cooked couscous stops the cooking and prevents it from sticking together as it cools.
DO AHEAD: This recipe can be made ahead and stored for a day in the fridge, but add the herbs just before serving.