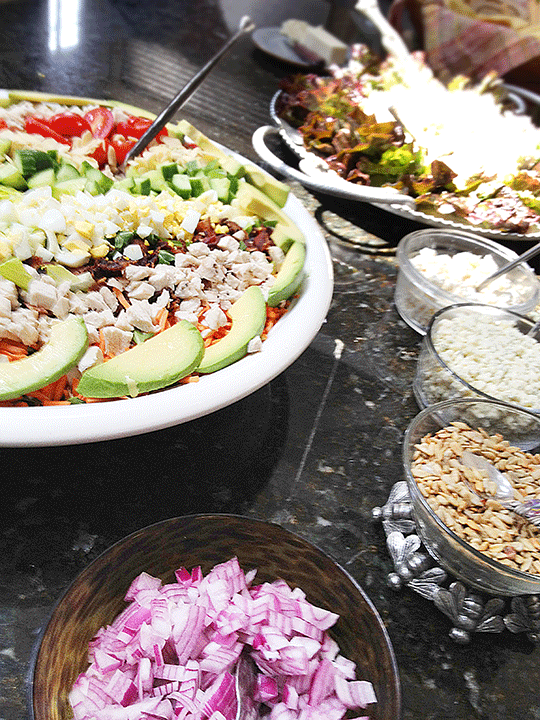 I make a salad almost every day and my recipe always changes depending on what's in season and what I have in my vegetable drawer, fridge, and pantry.  I wanted this luncheon salad to be more like a chopped salad a bit of everything chopped so there was something special for everyone.
INGREDIENTS:
• 2 large heads of butter lettuce, chopped
• 1 head of romaine, chopped
• 2 cups of arugula, stems removed
• 4-5 ears of corn cooked (Fresh corn kernels used for salad.)
• 8 pieces of thick bacon, cooked and cut into 1 inch pieces
• 2 cups of cherry tomatoes, sliced
• 4 Persian cucumbers, chopped
• 1 cup of red peppers, chopped
• 1 red onion, chopped (Can be served on the side.)
• 1-½ cup chopped nuts (sliced almonds, pine nuts, sunflowers seeds, walnuts, whatever you prefer)
• 1-½ cups of peas (I used frozen but kept them crisp not overcooked.)
• 1-½ cups of cheese (I served gorgonzola and feta on the side.)
• 2 sliced avocados (This is the last item to cut and add.  Use lime juice on slices to keep fresh.)
I serve the salad in a large shallow bowl.  Starting with the lettuce and then strips of ingredients cover the top, surrounded on the lip of the bowl by avocado slices.  I served the onion and cheese on the side in small bowls surrounding the main salad bowl.  Be creative and use your own favorites… there are so many wonderful choices.
CHOPPED SALAD VINAIGRETTE DRESSING RECIPE:
This recipe serves 4-6 so I doubled this for the above salad as I was serving a group of 12.
INGREDIENTS:
• 3 tablespoons of champagne vinegar
• 1 tsp of Dijon mustard
• 1 tsp of mayonnaise
• ½ tsp fresh garlic
• Dash of salt & pepper
• ½ good olive oil
Mix with an emersion blender… delicious!  I always keep this dressing in my fridge.  Again be creative you can add more garlic, fresh herbs; use white wine or red wine vinegar.  Enjoy!