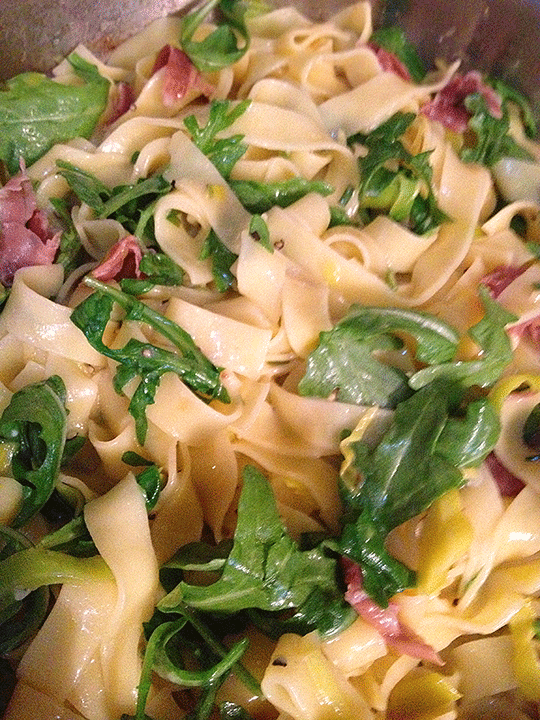 This is a wonderful recipe in this months Bon Appetit.  A light tasty pasta featuring leeks and arugula, two of my favorites.  I served this with a simple but delicious piece of baked salmon.  Enjoy!
INGREDIENTS:
• ½ pound pappardelle or fettuccine
• Kosher salt
• 2 tablespoons olive oil
• 2 tablespoons unsalted butter
• 2 leeks, white and pale greens only, halved lengthwise, thinly sliced crosswise
• ¼ cup chopped fresh chives
• 2 teaspoons finely grated lemon zest plus more for serving
• 1 bunch arugula, thick stems trimmed, leaves torn (about 4 cups)
• 1/3 cup finely grated Parmesan plus more for serving
• Freshly ground black pepper
• 3 ounces prosciutto, torn into 1-inch pieces
DIRECTIONS:
• Cook pasta in a large pot of boiling salted water, stirring occasionally, until al dente. Drain, reserving 2 cups pasta cooking liquid.
• Meanwhile, heat oil and butter in a large heavy pot over medium heat. Add leeks and cook, stirring often, until softened but not browned, 5-8 minutes.
• Add pasta, chives, 2 teaspoons lemon zest, and ¾ cup pasta cooking liquid. Cook, tossing and adding more cooking liquid by 1/4-cupfuls as needed, until a glossy sauce forms that coats pasta, about 4 minutes.
• Add arugula and 1/3 cup Parmesan, season with salt and pepper, and toss to combine. Add prosciutto and toss again. Top pasta with more lemon zest and Parmesan.  (Add the prosciutto at the last minute to preserve the pretty pink color.)
Serves 4