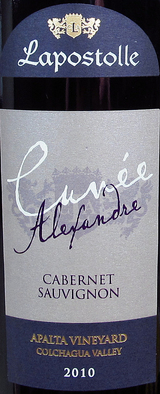 Now that's a mouthful! Yes, pun intended. Let's go to the southern hemisphere for a change in order to recommend another special holiday wine which represents a great value. Casa Lapostolle, located in the Colchagua valley of Chile has a 150+ year history of making wine and spirits. You've probably heard of Grand Marnier cognac liqueur, well this is the same family who now makes excellent wines.
Their flagship wine is called Clos Apalta ($85), a blend of Carmenere and Cabernet Sauvignon, which has won previous "wine of the year" awards.
The Cuvee Alexandre Cabernet is can be found for around $20-$25. Currently, Total Wine carries it for $22. This beautiful Cab received 92 points from the Wine Spectator and made into their top 100 wines of the year list.
A perfect Cab for a standing rib roast, it is dark, smoky, and fully bodied, carrying fine tannins, which lead to a long finish. It's ready to drink now and can be enjoyed for the next 6-8 years. Don't wait too long to get some, there were only 10,700 cases made. A value like this won't stay on the shelves very long.