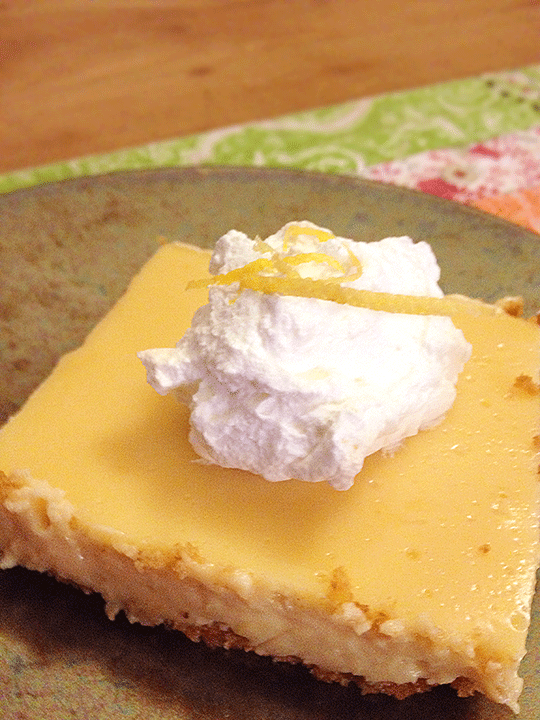 I was looking for a dessert that wasn't too sweet… although my "too sweet" may be different than most, because I love desserts.  I found this recipe again in the Southern Cookbook "The Back in the Day Bakery".  I am such a fan of their sweets!  This recipe was very easy and tastes complicated, a perfect combination.  I recommend you use freshly squeezed lemons.
INGREDIENTS:
• 3 cups graham cracker crumbs (approximately 24 crackers)
• 12 tablespoons (1 ½ sticks) unsalted butter, melted
• 2 tablespoons sugar
• 1 cup heavy cream
• 2 teaspoons grated lemon zest
• 1 cup fresh lemon juice
• 2 – 14oz cans sweetened condensed milk
• 6 large egg yolks
• 1 recipe fresh whipped cream (Recipe below)
DIRECTIONS:
• Position a rack in the middle of the oven and preheat the oven to 350˚F.  Grease a 9-by-13-by-2-inch baking pan and line with parchment, allowing the ends of the paper to hang over two opposite edges of the pan.
• To make the crust:  In a medium bowl, combine the graham cracker crumbs, butter, and sugar and blend with a fork until the crumbs are evenly moistened.  Press the graham cracker mixture firmly and evenly into the bottom of the prepared pan.  Use a piece of parchment to press on the crust with the palm of your hands to make sure it is completely level.
• Bake the crust for about 8 minutes, until lightly golden.  Let cool completely before adding the filling.  Turn the oven temperature down to 325˚F.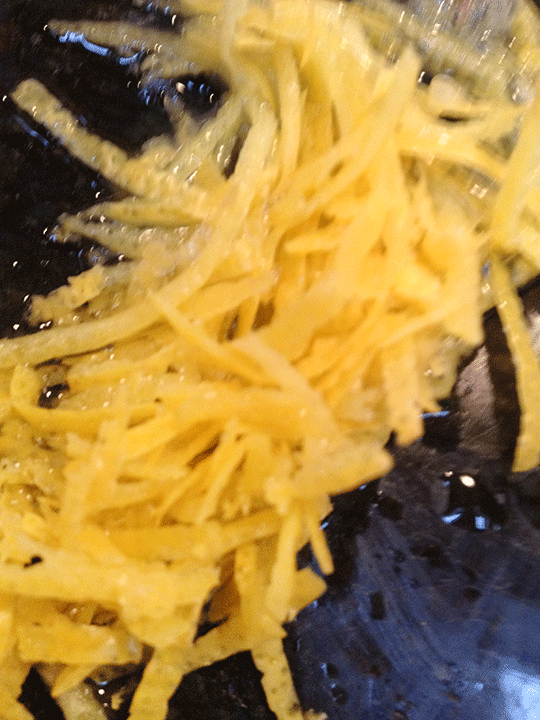 • To make the filling:  In a large bowl, whisk together the heavy cream, lemon zest, lemon juice, sweetened condensed milk, and egg yolks.  Pour the filling over the cooked crust.
• Place the baking pan inside a larger baking pan and pour enough hot water into the larger pan to come halfway up the sides of the smaller pan.  Bake for 20 to 25 minutes, until the filling is puffed at the edges and no longer jiggles in the center when the pan is tapped.  Remove the pan from the water bath and set it on a rack to cook for 1 hour, then refrigerate until cold.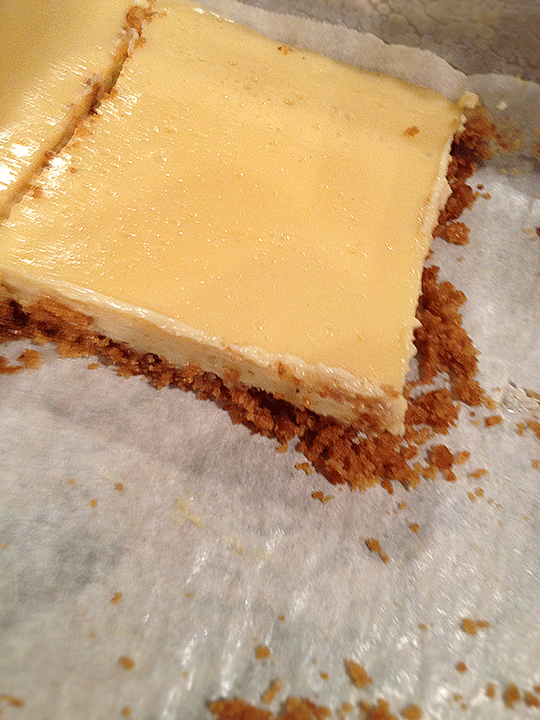 • Cut the bars into squares and serve chilled, with the whipped cream.  The bars will keep in an airtight container in the refrigerator for up to 3 days.
RECIPE: Fresh Whipped Cream
INGREDIENTS:
• 2 cups heavy cream
• ¼ cup confectioners' sugar
DIRECTIONS:
• Using a stand mixer fitted with the whisk attachment (or in a large mixing bowl, using a handheld mixer), whip the cream on medium speed until is starts to thicken.  Add the confectioners' sugar and beat until the cream holds nice soft peaks.