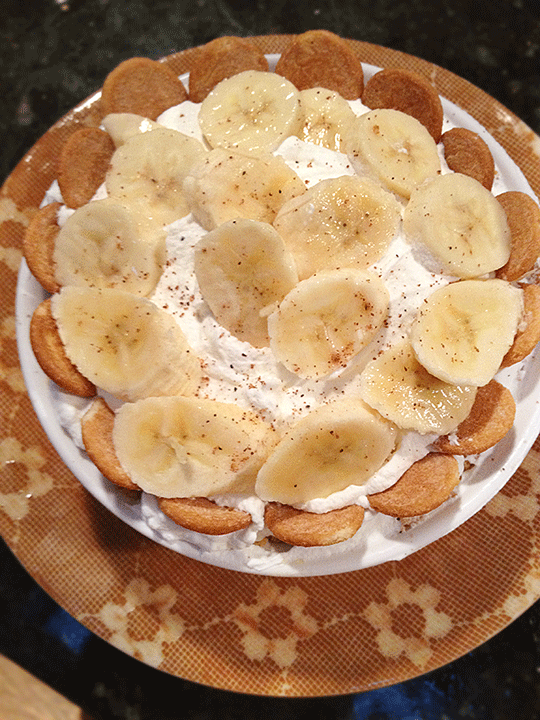 What could be better for dessert than a delicious homemade Banana Cream Pie?  I have never made this pie before and the banana cream is luscious.  If you love whipped cream, bananas, and old-fashioned vanilla wafers, then you'll love this pie.  This recipe is from a wonderful dessert cookbook called "Back In The Day Bakery Cookbook", by Cheryl & Griffith Day.  This is a collection of recipes from as they say "the best little bakery in the south'.  I can't wait to try the S'More Pie, stay tuned next week!  I need to get a kitchen blowtorch to melt the marshmallows.
INGREDIENTS:
• 5 large egg yolks
• 6 tablespoons sugar
• 3 tablespoons cornstarch, sifted
• ¼ teaspoon fine sea salt
• 2 cups half-and-half
• 1 teaspoon pure vanilla extract
• 3 tablespoons banana liqueur, such as crème de banana, or 2 teaspoons banana extract
• 2 ½ tablespoons unsalted butter, cut into cubes, at room temperature
• 1 recipe Nilla wafer piecrust, prebaked (Recipe below)
• 3 large bananas, cut into ¼-inch-thick slices, plus more for decorating
• 1 recipe fresh whipped cream (Recipe below)
• Freshly grated nutmeg for garnish
• Nilla wafers for decorating
DIRECTIONS:

• In a heatproof bowl, whisk together the egg yolks, sugar, cornstarch, and salt until thick and pale in color.  Set aside.
• In a medium saucepan, heat the half-and-half to just below a boil.  Whisk about 1 cup of the hot half-and-half into the egg yolk mixture to temper the yolks, so they won't curdle, then, continuing to whisk, add the remainder of the half-and-half in a steady stream.
• Set the bowl over a saucepan of simmering water (do not let the bottom of the bowl touch the water) and cook, whisking constantly, until thickened, 5 to 7 minutes.
• Remove the bowl from the heat and whisk in the vanilla and banana liqueur or extract until well combined.  Let the filling mixture sit for 2 to 3 minutes to cool slightly, then whisk in the butter until the custard is smooth and silky.  Place a piece of plastic wrap directly on top of the custard so that a skin does not form and let cool for 30 minutes, or until it reaches room temperature.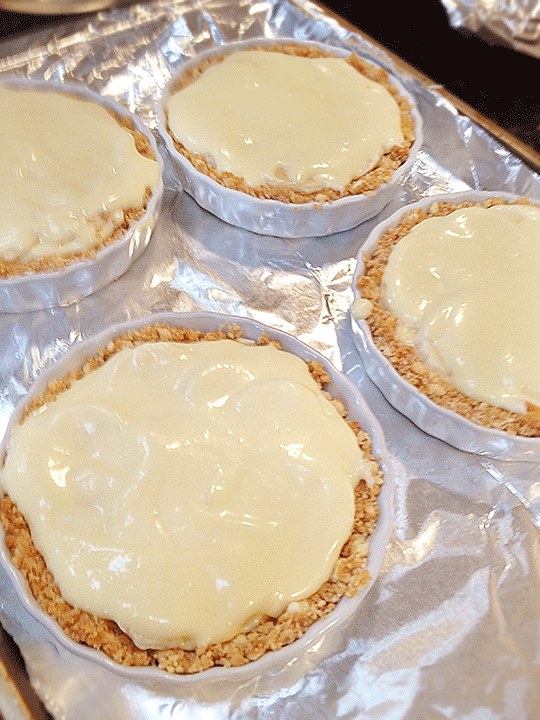 • When the filling has cooled, pour half of it into the prepared piecrust.  Add a layer of the sliced bananas, followed by the rest of the filling.  Cover with plastic wrap and place it in the refrigerator to chill for at least 3 hours, or overnight.
• Pile the whipped cream on top of the pie with a spatula.  Sprinkle with grated nutmeg and decorate with vanilla wafers and banana slices.  The pie is best served the same day, but it can be covered and refrigerated for up to 3 days.
TIP – Here is a great way to prevent bananas from turning brown in your pie.  Using a pastry brush, brush them with lemon or orange juice.  Other liquids you can use are lime juice, pineapple juice, orange soda, or lemon-lime soda.
RECIPE: Fresh Whipped Cream

INGREDIENTS:
• 2 cups heavy cream
• ¼ cup confectioners' sugar
DIRECTIONS:
• Using a stand mixer fitted with the whisk attachment (or in a large mixing bowl, using a handheld mixer), whip the cream on medium speed until is starts to thicken.  Add the confectioners' sugar and beat until the cream holds nice soft peaks.
RECIPE: Nilla Wafer Piecrust

INGREDIENTS:
• 3 ½ cups Nilla wafers
• 2 tablespoons unbleached all-purpose flour
• 2 tablespoons sugar
• Pinch of fine sea salt
• 8 tablespoons (1 stick) unsalted butter, at room temperature
DIRECTIONS:
• Position a rack in the lower third of the oven and preheat the oven to 350 degrees F.
• Put the cookies in a zip-top plastic bag and pound them with a rolling pin until they become coarse crumbs.  Alternatively, pulse the cookies in a food processor.  You should have 2 cups.
• In the bowl of a stand mixer fitted with the paddle attachment (or in a large mixing bowl, using a handheld mixer), mix the cookie crumbs, flour, sugar, salt, and butter on low speed until the crumbs and flour are evenly moistened, 3 to 5 minutes.  You may be tempted to add more butter – don't.
• Press the dough evenly over the bottom and up the sides of a 9-inch pie dish.  Bake for 6 to 8 minutes, until golden brown.  Let cool completely before filling.