It is the season for Red Haven Peaches and this recipe highlights their sweet and luscious taste.  The crust recipe is a butter crust I have used for years, it is also the same recipe that Ina Garten has in her Summer Fruit Crostata.  A butter crust can't be beat in a fruit dessert, and I am a fan of all fruit desserts.  You can make this recipe with blueberries, nectarines, plums, or apples.  As the season changes so can the fruit.
PASTRY CRUST INGREDIENTS (makes 2 crostatas):
• 2 cups all purpose flour
• ¼ cup of superfine sugar
• Dash of kosher salt
• 2 sticks of cold butter, diced
• 6 tablespoons of ice water
FRUIT FILLING INGREDIENTS:
• 6-7 large red haven peaches, peeled and sliced
• 1 tablespoon of flour
• 1 tablespoon of sugar
• ½ tablespoon of cinnamon
• ¼ tsp of orange zest
• 2 tablespoons of fresh squeezed orange juice
TOPPING INGREDIENTS:
• ¼ cup flour
• ¼ cup of sugar
• 4 tablespoons of cold butter
PASTRY CRUST DIRECTIONS:
• Combine dry ingredients.
• Add butter till mixture resembles pea like crumbles.
• Add water. Do not over mix.
• Divide dough into two disks, flatten and wrap in parchment.
• Store in fridge for at least an hour.  You can freeze for use later on.
DIRECTIONS:
• Preheat oven to 375 degrees.
• Mix fruit filling ingredients for filling.
• Combine topping ingredients into a crumbled mixture.
• Roll out dough onto a well floured surface about 11 inches in diameter.
• Place dough on a parchment lined baking sheet.
• Place fruit mixture onto dough leaving a 1-½ inch edge.
• After filling the dough bring edges up and crimp around fruit mixture.
• Sprinkle the topping over the crostada.
• Place in the preheated oven.  Bake for 30-35 minutes or until edges of dough are golden and crumble top is bubbly.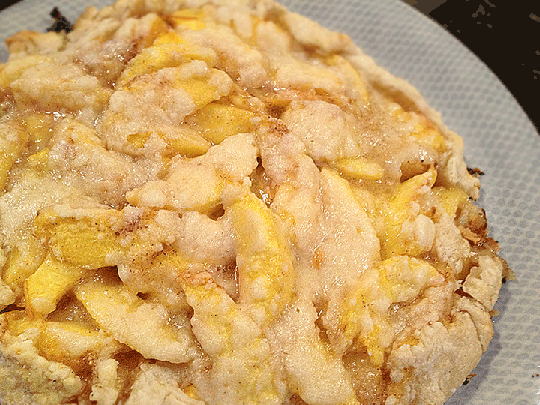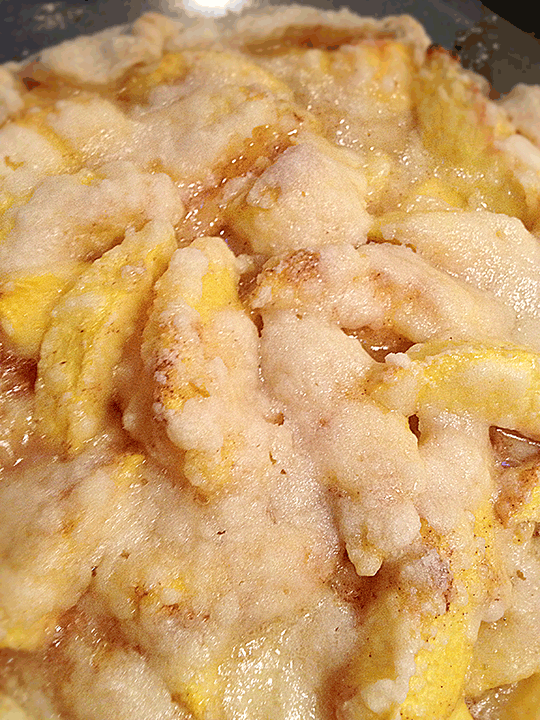 • Serve with vanilla ice cream or fresh whipped cream.  Enjoy!