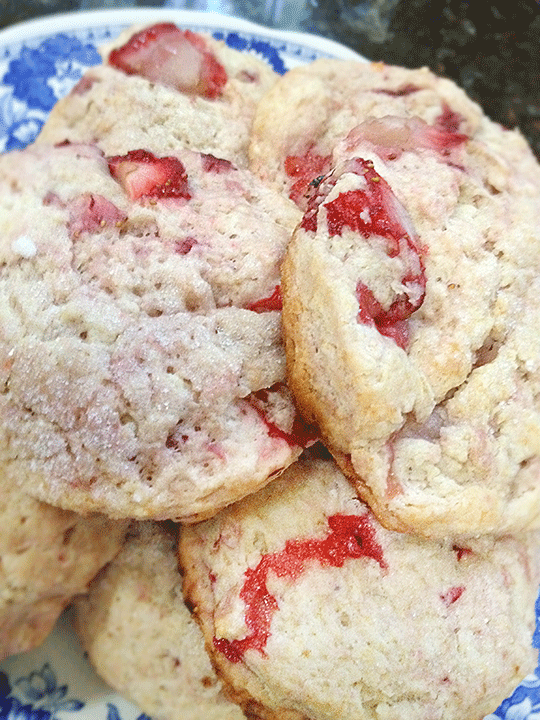 If you haven't yet figured it out I have a sweet tooth.  It's a fact… I know I should curtail my dessert addiction but sometimes (most times) I need just a little bit of sweet.  This recipe from the food blog "smitten kitchen" is a winner.  I love scones in the morning and with summer's fresh berries it tastes divine!  If you like strawberry shortcake then you'll like this recipe.  You could add some fresh berries and whipped cream and you have a dessert.
INGREDIENTS:
• 2 ¼ cups of all-purpose flour
• 1 tablespoon of baking powder
• ¼ cup of sugar
• ½ tsp of salt
• 6 tablespoons of cold butter, cut into cubes or shredded
• 1 cup of very ripe strawberries, chopped
• 1 cup of heavy cream
DIRECTIONS:
• Preheat oven to 425 degrees and line baking sheets with parchment paper.
• Whisk all dry ingredients and then add butter until it resembles a crumbly meal.
• Mix in strawberries gently using a rubber spatula.  Don't worry about mixing; dough should be handled as little as possible.
• Generously flour your counter and place dough on there, rolling out dough with your hands, about ¾ inch thick.
• Cut out scones or baskets to your desired sizes, approximately 2 ½ inch rounds.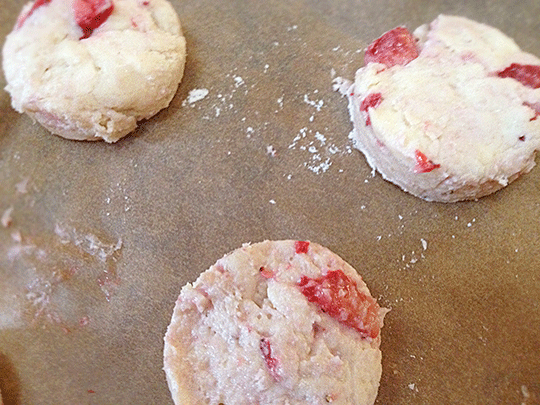 • Place on baking sheet and bake.  Scones are done when the edges are browned
• Cool and serve.