I started the day going to my favorite nurseries to shop for plants for clients.  The day was sunny and gorgeous, all the variables that put me in a great mood.  I stopped at the first spot, bought some wonderful plants, and headed out to another spot.  My senses were on fire, gorgeous plants everywhere.  They had so many plants, standards, and interesting items I haven't seen elsewhere.  I started to fill a cart… then another cart… all in all 4 carts of flowers were filled to the brim.  I was with a friend but we could not push all four carts into the checkout line.  When as we tried to move one cart to pay shoppers started taking items off our other carts!  There is, I thought, a nursery etiquette… you do not touch another gardener's cart.  If you see something on a cart you can't find you ask… you don't grab.
Now one of us had to stand guard on the plants.  I spent another hour at the shop just refilling plants that were taken, and even then as I stood in line with two carts, seeing my two paid carts ahead of me, patrons were still trying to take items off them.  I love my time shopping and picking the perfect plants for my clients but this day was a bit offsetting.  I made it back to my clients and worked till 7pm, which was not my plan.  The plants were wonderful and as my hands hit the dirt and the magic began the stress of the shopping disappeared.  It is amazing how gardening relaxes and brings you peace.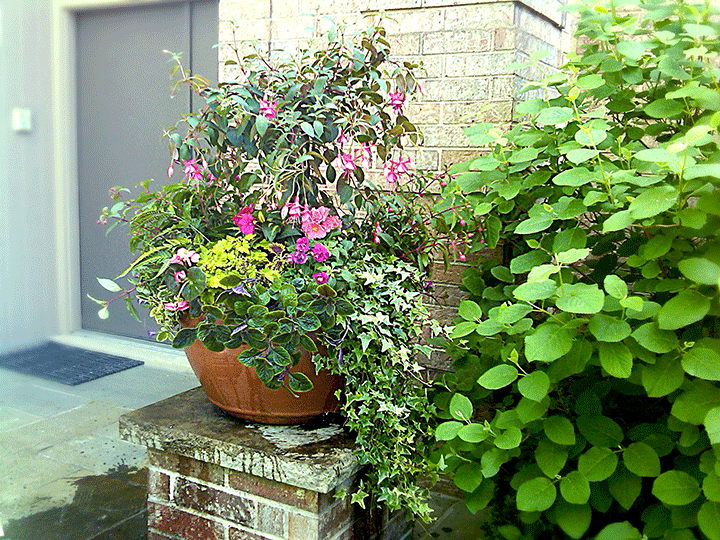 A fuchsia standard, begonias, coleus, nico vine, lobelia, and impatiens… perfect for shade.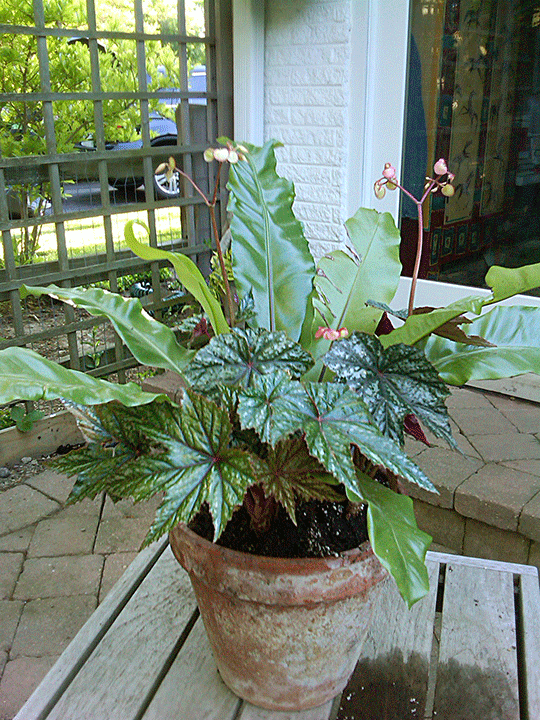 Sometimes the simplest planters are the best. This is an old clay pot birds nest fern and hybrid begonias.  Easy!