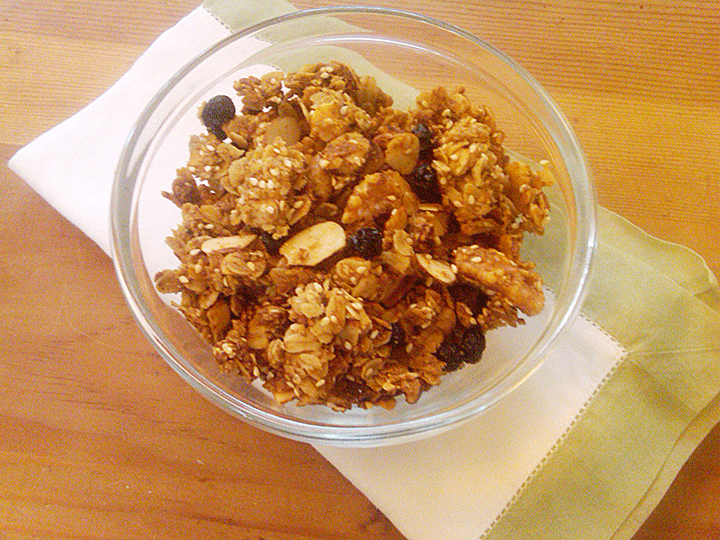 I love granola as my breakfast with fresh fruit, as topping on my sorbet, ice cream or yogurt. I also like to have it around as a quick snack that really hits the spot when I have a full day. I have made so many different variations of granola but I like this one because it incorporates wheat germ and flaxseed, and the honey-maple dressing is light but still gives the granola the perfect sweetness.  Again you can make this your own… using less honey more maple syrup, adding different nuts and seeds, and the fruit element can be whatever you have a taste for.  I like the blueberries.
INGREDIENTS:
• 5 cups of old fashioned oats
• ½ cup of whole wheat flour
• ½ cup of wheat germ
• ½ cup of sesame seeds
• ½ cup of milled flaxseed
• 1 ½ cups of sliced almonds
• 1 ½ cup of chopped pecans
• 1 cup of chopped walnuts
• ¼ tsp kosher salt
• ¾ cup of grapeseed oil
• ¾ cup of honey
• ¼ cup of maple syrup
• 1 cup of dried blueberries (you can add any dried fruit to this: dates, raisins, cherries,         cranberries…)

DIRECTIONS:
• Preheat oven to 325 degrees.
• Line two large cookie sheets with parchment paper.
• Mix the first 9 ingredients together in a large bowl.
• Mix the oil, honey and maple syrup in a small pan over a medium-low heat until they           are warm.
• Using a wooden spoon stir the honey mixture into the dry ingredients. Then add the             dried fruit.
• When it is mixed thoroughly divide the mixture between the two pans and bake for               approximately 35-40 minutes.
• You can turn the granola every so often.  Be careful not to burn, it's easy to do so               watch closely.
• Take out of oven to cool and pack in an airtight container.