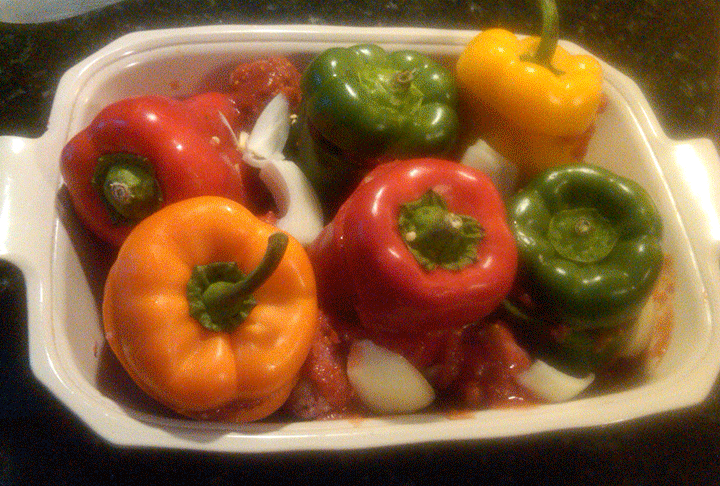 Since it is spring… I think of Lamb. What can I say, I'm Armenian, so cooking with lamb is like cooking with beef for most people.  I grew up eating leg of lamb, shish kabob, lamb chops, lamb burgers, stuffed peppers with lamb, a lamb soup, and I could go on and on. Today my family requested stuffed peppers. I love to pick a medley of colored peppers red, yellow, orange,  and green. I take my ground lamb and mix with the ingredients listed below.  Then I stuff each pepper about ¾ full with the meat mixture.  Cover with sauce and cook for approximately 45 minutes… until meat is cooked through.  The best thing about this meal is you have your veggies and meat so really it's a complete meal.
Serves 4-6
INGREDIENTS:
• 2lbs of ground lamb
• 1 cup of #1 grain Bulger
• ½ cup of finely chopped parsley
• 1 small white onion finely chopped
• 1 tbl of tomato paste
• Dash of kosher salt & freshly pepper
• 28 oz can of crushed tomatoes
• ½ cup of red wine
• White onion sliced in wedges.
DIRECTIONS:
• Preheat oven to 350°.
• Cut the tops off the peppers and clean out any seeds, save tops.
• Mix the next 6 ingredients and kneed with your hands. Stuff each pepper with the meat       mixture about ¾ full.
• Place in a deep oven safe dish upright. Place onion slices between the peppers.
• Mix tomatoes & wine… then pour over peppers.
• Place tops on peppers and cook in preheated oven for 45 min. (If you have extra meat         make meatballs and place between the peppers.)
Enjoy!!!