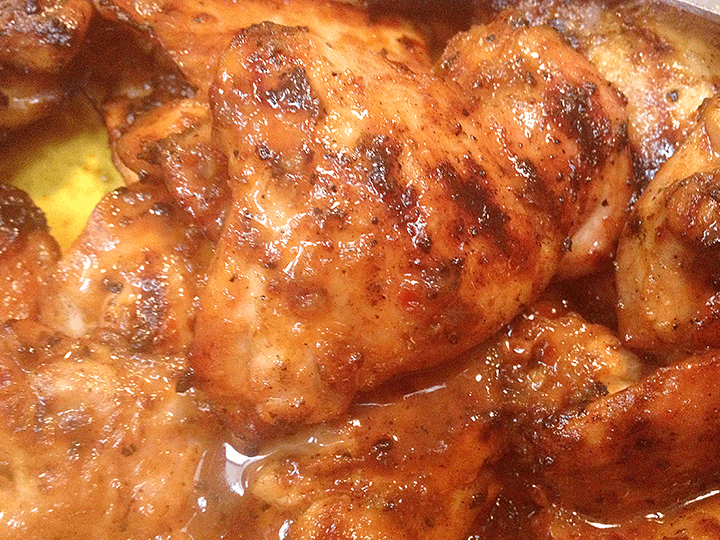 I have been slightly preoccupied with planting this past month and my new recipes posts have been slim.  So today I want to share my Fourth of July barbecue recipes.  I'll start with the delicious chicken recipe and sauce.  It's found in the current issue of Bon Appetit and this may be my favorite marinade of all time.  You'll probably need to shop for the ingredients but the extra time is well worth it.  I love chicken thighs… they are moist, succulent, tasty, and soooo cheap.  Let's face it, when cooking for a crowd sometimes it's nice not to spend a fortune on meat.  The recipe calls for cubing the thighs and putting the meat on skewers, but I like them whole and grilled.
INGREDIENTS:
• ½ cup brown sugar (packed)
• ½ cup unseasoned rice vinegar
• 1/3 cup hot chili paste
• ¼ cup of fish sauce
• ¼ cup Sriracha
• 2 teaspoons finely grated peeled ginger
• 1 ½ LB skinless boneless chicken thighs cut into 1½ – 2″ pieces
• 8 bamboo skewers (soaked in water for at least 1 hour)
DIRECTIONS:
• Prepare grill at medium-high heat.
• Whisk the first 6 ingredients together then coat and toss the chicken pieces and thread 4-5 pieces onto a skewer.
• Transfer the marinade to a small sauce pan and bring to a boil.
• Reduce heat and simmer until reduced by ½ (1 cup) 7-10 minutes.
• Grill chicken turning and basting with the sauce 8-10 minutes.
Ready to serve, enjoy!!!